Get ready to dive into the extravagant world of kings and royalty with our hand-picked selection of 15 anime where the MC reigns supreme! In these captivating series, our protagonists don't just wear a crown; they rule with style, charisma, and sometimes even a dash of quirkiness. From epic battles to political intrigues, these shows offer a royal feast of entertainment.
So, buckle up and join us on this regal adventure as we explore the fascinating tales of kings and queens, where our MCs hold the power and authority fit for royalty! Get ready to witness the rise, the struggles, and the triumphs of characters destined for greatness on the throne. Let's dive into this majestic world of anime and discover the captivating stories that unfold when the MC is the king or queen!
Read Also:
Top 6 Amazing Anime Where MC is King
| Anime | King/Royalty |
| --- | --- |
| Record of Grancrest War | Theo Cornaro (knight with Crest from Chaos Core) |
| Ousama Ranking | Prince Bojji |
| Unnamed Memory | Prince Oscar |
| Kyo Kara Maoh! | Yuri Shibuya (demon lord) |
| Tales from Earthsea | Prince Arren (heir to the Kingdom of Enlad) |
| KING's RAID: Successors of the Will | Kasel (King Kyle's last remaining heir) |
Anime Where MC is King
Nobunaga the Fool
Genres: Action, Historical, Mecha, Sci-Fi
GDH Rating
Nobunaga the Fool is an action-packed and visually beautiful anime that follows the adventures of a local feudal lord's son as he strives to conquer the globe. The stakes are high because he must obtain the Holy Grail in order to defend his world from King Arthur and his combat machine army. Nobunaga "The Fool" relies on Jeanne Kaguya d'Arc, a strange girl with divine visions, and her ally Leonardo da Vinci in their epic struggle for survival.
He also enlists the assistance of Himiko, the Yamato Queen, who commands a powerful and brave clan. Together with them, they face several enemies while attempting to discern between good and evil forces at play that threaten their very survival – all while following to Nobunaga's own reckless behavior on the battlefield! When each obstacle appears one after the other, these unlikely heroes will have to come together if they expect to succeed against all odds!
Tsukimichi: Moonlit Fantasy
Genres: Action, Adventure, Comedy, Fantasy
GDH Rating
Tsukimichi: Moonlit Fantasy is an anime about Makoto Misumi, who was chosen by a goddess to be her kingdom's hero. But, the deity judged him "hideous" and refused to even look at him before removing his heroic title and bestowing upon him the ability to understand all languages except human. Makoto then traveled to a remote part of his new world, where he met mythological creatures such as demihumans, who were impressed by Makoto's abilities and wanted to help construct a new community where individuals could coexist peacefully.
With his newfound strength in both physical and magical skills, Makoto must now fulfill his desire to meet other humans in this strange world forbidden by the goddess herself – all while rebuilding society from the inside out.
Arslan Senki
Genres: Action, Adventure, Drama, Fantasy, Historical, Shounen
GDH Rating
Arslan Senki is a great anime in which the main character, Arslan, is a King or royalty. It is the year 320, and his country, Pars, is at war with the neighboring empire, Lusitania.
Arslan's first encounter on the battlefield shows great promise, but betrayal by one of his own trusted officials leads to the devastation of Pars' army and the siege of their capital city, Ecbatana. Being an outlaw, Arslan must not only find the strength to return his home, but also form alliances to help him do so.
Not only are forces from other kingdoms planning to conquer Ecbatana, but they must also deal with an even larger threat: a mysterious man wearing a silver mask who holds mystical secrets that, if revealed, may destroy Arslan's right to succession. Yet, despite these difficult circumstances, Arlsan seeks allies strong enough to accompany him on this voyage so that the world can see how well he would do when the time comes for him to rule over all nations as king himself someday.
Code Geass
Genres: Action, Military, Sci-Fi, Super Power, Drama, Mecha, School
GDH Rating
Code Geass is an anime in which the main character, Lelouch vi Britannia, is an exiled prince from Britannia. Nunnally, Lelouch's sister, was so traumatized that she lost both her sight and her ability to walk after his mother was cruelly killed. Lelouch is taken to Japan as a political pawn, and after Japan is conquered by Britannia, he promises his Japanese ally Suzaku Kururugi that he would one day annihilate Britannia.
That Time I Got Reincarnated as a Slime
Genres: Action, Adventure, Comedy, Demons, Magic, Fantasy
GDH Rating
In "That Time I Got Reincarnated as a Slime," our protagonist, Satoru Mikami, undergoes a remarkable transformation from an ordinary corporate worker in Tokyo to a being of extraordinary power and significance. After a tragic encounter that leads to his untimely death, Satoru is reborn in a fantastical world as a slime, of all things. This new existence grants him incredible abilities, including the power to consume and mimic anything he devours.
One fateful day, Satoru encounters the ancient and powerful "Storm Dragon" Veldora, who has been sealed away for centuries. Their friendship blooms, and in exchange for promising to help break the seal, Veldora grants Satoru the name Rimuru Tempest and divine protection.
What sets this anime apart is how Rimuru's journey takes an unexpected turn. Not content with merely surviving in this new world, he aspires to create his own kingdom. This transformation from a humble slime into a ruler is where the "King or Royalty" theme comes into play. Rimuru's quest to establish his kingdom is both engaging and captivating, making "That Time I Got Reincarnated as a Slime" a must-watch for those intrigued by tales of unexpected kingship in the most unlikely of forms.
How a Realist Hero Rebuilt the Kingdom
Genres: Action, Fantasy, Harem, Magic, Military, Romance
GDH Rating
Summoned to another world to reportedly deal with the threat of the Demon Lord's Domain, Kazuya instead finds himself with the throne of the Kingdom of Elfrieden and the hand of Liscia Elfrieden thrown at him.
Now, king, Kazuya begins radical reforms in order to improve the standard of living in the kingdom. In the One Week War, Kazuya finds himself in a civil war between himself and Dukes Georg Carmine and Castor Vargas while also having to fight the Principality of Amidonia.
The 8th son? Are you kidding me?
Genres: Action, Fantasy
GDH Rating
Waking up in a new world, 25-year-old Shingo Ichinomiya realizes that he is in the body of a six-year-old. Retaining memories of his stressful life working at a firm company, Shingo learns that the person he is occupying is Wendelin Von Benno Baumeister, the eighth son of a poor noble family living in the countryside.
Awoken to his bizarre situation, Wendelin strives to change his financial and social status for the better. His newly discovered great magical aptitude may prove to be just what he needs to achieve that goal.
Snow White with the Red Hair
Genres: Fantasy, Romance, Drama, Shoujo
GDH Rating
"Snow White with the Red Hair" follows the story of Shirayuki, a cheerful red-haired herbalist in the country of Tanbarun. Her life takes a dramatic turn when Prince Raji, the whimsical ruler of Tanbarun, tries to force her into becoming his concubine. In a courageous act of defiance, Shirayuki cuts her long crimson locks and escapes into the forest.
Amidst the wilderness, her path crosses with Zen Wistalia, the second prince of the neighboring kingdom of Clarines, and his loyal aides. They rescue her from Raji's clutches. Feeling indebted, Shirayuki aspires to become the court herbalist in Clarines.
As the anime unfolds, it beautifully illustrates Shirayuki's journey adapting to her new life at the royal palace of Clarines. Alongside her, Zen strives to prove himself as a worthy prince. The series delves into the growth of their friendship, the formation of powerful alliances, and the emergence of formidable adversaries. Amidst these trials, Shirayuki and Zen learn to lean on one another as they traverse their unique paths.
Kingdom
Genres: Action, Historical, Military, Seinen
GDH Rating
In the kingdom of Qin, Li Xin and Piao are war-orphaned slaves who dream of becoming Great Generals of the Heavens. When Piao is recruited to work in the royal palace, a coup d'état occurs, and he returns to Xin, half dead, with a mission. Xin must meet with the young king, Ying Zheng, and begin his quest to become a great general of the Seven Warring States. "Kingdom" follows Xin as he navigates the bloodshed of China's history.
Record of Grancrest War
Genres: Action, Drama, Fantasy, Romance
GDH Rating
Theo Cornaro is the main protagonist of the series. A wandering knight who obtained a Crest from a Chaos Core. He comes from Sistina, a village ravaged by Chaos and oppressed by their Lord, Viscount Phederico Rossini. After rescuing Siluca Meletes from soldiers and telling her his goal to free his hometown, he forms a contract with her and together they fight to stop the feuding lords and end the Chaos era.
Ousama Ranking
Genres: Adventure, Fantasy, Drama
GDH Rating
Ousama Ranking is the story of Prince Bojji, a young and ambitious prince who is looked down upon by his kingdom due to his inability to hear or speak. Despite this, Bojji is determined to become the best king he can be. He's an unlikely friend with a shadow creature named Kage, who helps him on his journey of self-discovery and growth.
Bojji faces constant ridicule and must overcome his fears and insecurities, but his determination and strong will make him a true leader. This anime is a perfect example of a main character who is royalty, and the story follows his journey to become a strong and just king, despite the obstacles he faces. It is a thrilling and emotional watch for those who enjoy adventure, fantasy, and drama genre.
Unnamed Memory
Genres: Fantasy, Romance, Adventure
GDH Rating
Unnamed Memory is the story of Oscar, a prince who is cursed and seeks the power of the Witch of the Azure Moon to break it. He wants to take Tinasha, a strong and capable woman, as his wife. Tinasha agrees to live with Oscar in the royal castle for a year while researching the spell placed on the prince. However, the witch's dark secrets begin to resurface and threaten to tear apart the couple's relationship.
The anime follows Oscar's journey to break his curse and his growing feelings for Tinasha. The story is filled with fantasy, romance, and adventure elements that makes it an exciting watch for those who enjoy anime where the main character is royalty and is trying to overcome an obstacle to be with the one he loves.
Kyo Kara Maoh!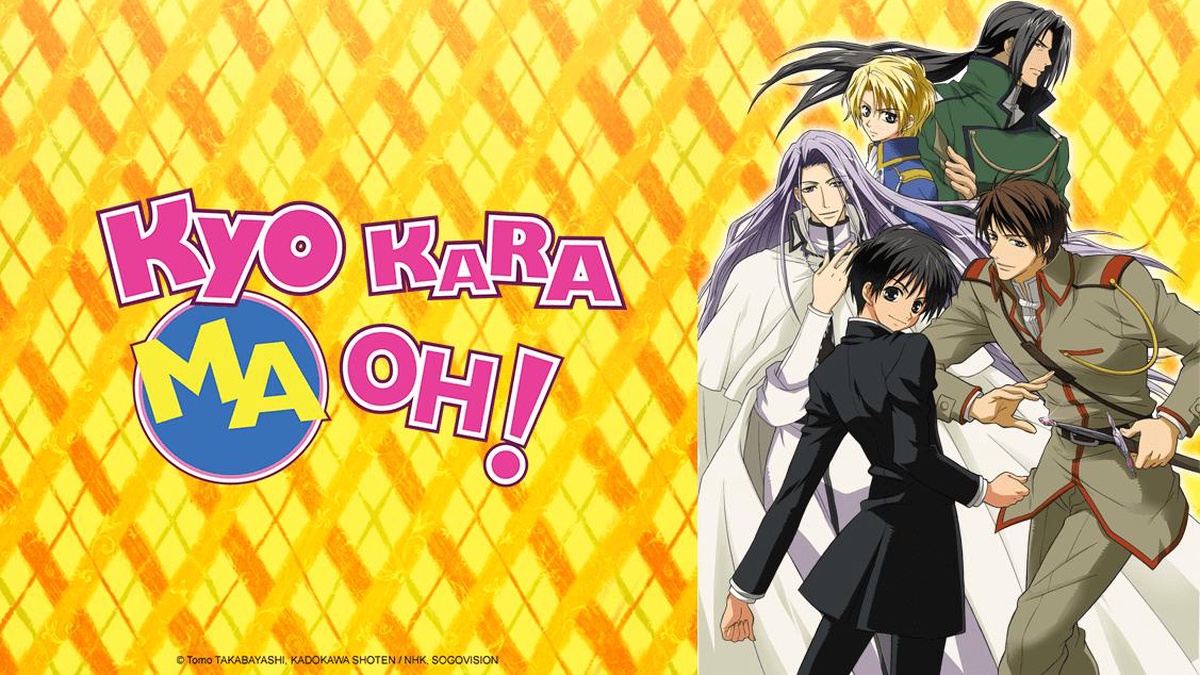 GDH Rating
Kyo Kara Maoh! is a classic anime in which the main character gets crowned king. Set in an universe similar of medieval Europe, viewers follow Yuri Shibuya as he progresses from being bullied on Earth to becoming an unusual ruler in this new magical land.
The story follows him as he discovers his unexpected abilities, navigates politics between humans and demons, and fights to maintain peace between these two separate species. Kyo Kara Maoh! is sure to thrill those who desire adventure in their royalty drama, with fantastic fight scenes, engaging characters, and a meaningful plot.
Tales from Earthsea
GDH Rating
Tales from Earthsea, the critically acclaimed anime series, takes viewers on a captivating adventure filled with magic and mystery. Control Prince Arren, the fugitive heir to the Kingdom of Enlad, as he navigates dangerous territories ravaged by catastrophes and deadly dragons. Arren is joined on his journey by Sparrowhawk, an experienced Arch Mage determined to uncover the truth behind these strange occurrences. Worse, Lord Cob, a dark magician lured by eternal life, stands in their way.
Working with Tenar, an old friend of Sparrowhawk's, and Therru, an orphan girl taken under her wing, the three must overcome this strong enemy with the ability to manipulate other people's emotions. Prepare to enter into a complex and intricate story that transcends the boundaries of traditional good against evil battles and explores inner issues on an emotional level. Enter Ged Senki's magical universe for a unique experience!
KING's RAID: Successors of the Will
GDH Rating
King's Raid: Successors of the Will is an anime series that follows Kasel, a knight apprentice and King Kyle's last remaining heir. He defeated the demon king Angmund with the Holy Sword Aea one hundred years ago, bringing peace to his land. Now that demons have been sighted in neighboring forests, Kasel embarks on a quest to unseal the sword and save humanity from annihilation, accompanied by his friend Frey—a priestess who learns about their fate together. Along this path of self-discovery, Riheet—the commander of dark elf mercenaries plotting vengeance against humans for long-ago occurrences. Who will prevail when it comes to determining their fates?