In the hustle and bustle of daily life, finding moments of tranquility becomes essential for overall well-being. For anime enthusiasts seeking a perfect blend of relaxation and entertainment, the world of "Iyashikei" offers a haven of soothing experiences. Characterized by their calming narratives, picturesque settings, and heartwarming themes, Iyashikei anime beckon viewers into a realm where the pace slows down, tensions ease, and a sense of comfort prevails.
In this article, we present a curated list of 11 enchanting Iyashikei anime that are ideal companions for your nocturnal anime escapades. Embrace the serene ambiance, unwind, and let these anime transport you to a world where tranquility reigns supreme, providing the perfect remedy for a restful night's sleep.
Relaxing Anime To Help You Relax
1. Barakamon
Seishuu Handa is an up-and-coming calligrapher: young, handsome, skilled, and, unfortunately, a boot narcissist. When a veteran labels his award-winning piece as "unoriginal," Seishuu quickly loses his cool, with serious repercussions.
As punishment, and also to help him in self-reflection, Seishuu's father exiled him to the Goto Islands, far from the comfortable Tokyo lifestyle of the temperamental artist. Now thrown into a rural world, Seishuu must strive to find fresh inspiration to create his distinctive style of painting.
2. Mushi-shi
"Mushi": the most simple way of life in the world. They exist without any aim or intent other than just "being." They are beyond the shackles of the words "good" and "evil." Mushi can exist in innumerable ways and are capable of imitating objects from the real world, such as plants, viruses, and even phenomena such as rainbows.
However, this is but a vague description of those beings that occupy the vibrant universe of Mushishi, that even naming them a mode of life would be an oversimplification. Detailed research on Mushi is sparse since the majority of humans are ignorant of its presence.
3. Hyouka
At the behest of his older sister, student Hotaro Oreki enters the Kamiyama High School Classic Literature Club to save it from being disbanded, followed by fellow members Eru Chitanda, Satoshi Fukube, and Mayaka Ibara. The story is set in Kamiyama City, a fictional town in Gifu Prefecture, built by the author on his true hometown of Takayama, also in Gifu.
The novel Kamiyama High School is based on the real-life of Hida High School. They're starting to crack different puzzles, both to help with their club and at Eru's invitation.
4. Tanaka Kun Is Always Listless
The act of being listless is a way of life for high school student Tanaka. Known for his inattentiveness and desire to sleep everywhere, Tanaka prays that every day will be as unfathomable as the last, trying to maintain his lazy lifestyle as much as he can by avoiding circumstances that need him to exercise himself.
Along with his trustworthy friend Oota, who assists him with the duties he's unable to do, the lethargic teenager is continually faced with incidents that keep him from enjoying the calm and happy days he's looking for.
5. Pillow Boys
There are boys to suit all tastes: Merry is a gentle brown-haired boy; Sousuke Tanaka is a mature man of work; Kanade Hanamine is a hard-working high school student, but frightened by mere spiders; Eiji Kijinami is a sore loser who looks like a punk, but has a tender heart.
The shy Ryuushi Theodore Emori loves stargazing; Yuu Maiki is a freshman with illusions of grandeur; Haruto Enokawa is a man of greatness; Nao Sasayama is a hip college student who is addicted to his smartphone; Shirusu Mochizuki is a librarian who treasures books and book lovers; Yonaga and Yayoi Chigiri are siblings who learn flower arrangements, and Yuuichirou Iida is a humorous old man who runs an open stall.
5. MARCH COMES IN LIKE A LION
The series is set in Tokyo, following the daily life of Rei, a 17-year-old shōgi player (lit. "Zero"). Umino based the March Comes In Like a Lion setting on her research, whereas she was already familiar with the setting for her earlier work, Honey and Clover.
Rei stays by himself, his parents and younger sister are killed in a crash, he is a stranger to his adoptive family and has barely any friends. Among his mates is a family made up of three sisters—Akari, Hinata, and Momo Kawamoto—who also have several cats. As the story progresses, Rei deals with his maturation as a player and as a human, while improving his relationship with others, particularly the Kawamoto Sisters.
6. MY ROOMMATE IS A CAT
Subaru Mikazuki is a 23-year-old mystery writer, a huge introvert, and an awkwardly shy person. He'd rather sit home and read a book than go outside and communicate with others. Further exacerbating this life of isolation, his parents died suddenly in an accident several years ago, leaving him stranded in the world.
7. THE GARDEN OF WORDS
On a rainy morning in Tokyo, Takao Akizuki, an up-and-coming shoemaker, decides to miss class sketch designs in a gorgeous garden. This is where Yukari Yukino, a stunning and enigmatic lady, meets for the very first time.
Offering to make her new shoes, Takao proceeds to visit Yukari through the rainy season, and without even realizing it, they can ease the worries locked in their hearts only by being with each other. However, their problems have not yet vanished, and as the end of the rainy season comes, their friendship will be put to the test.
8. Sweetness and Lightning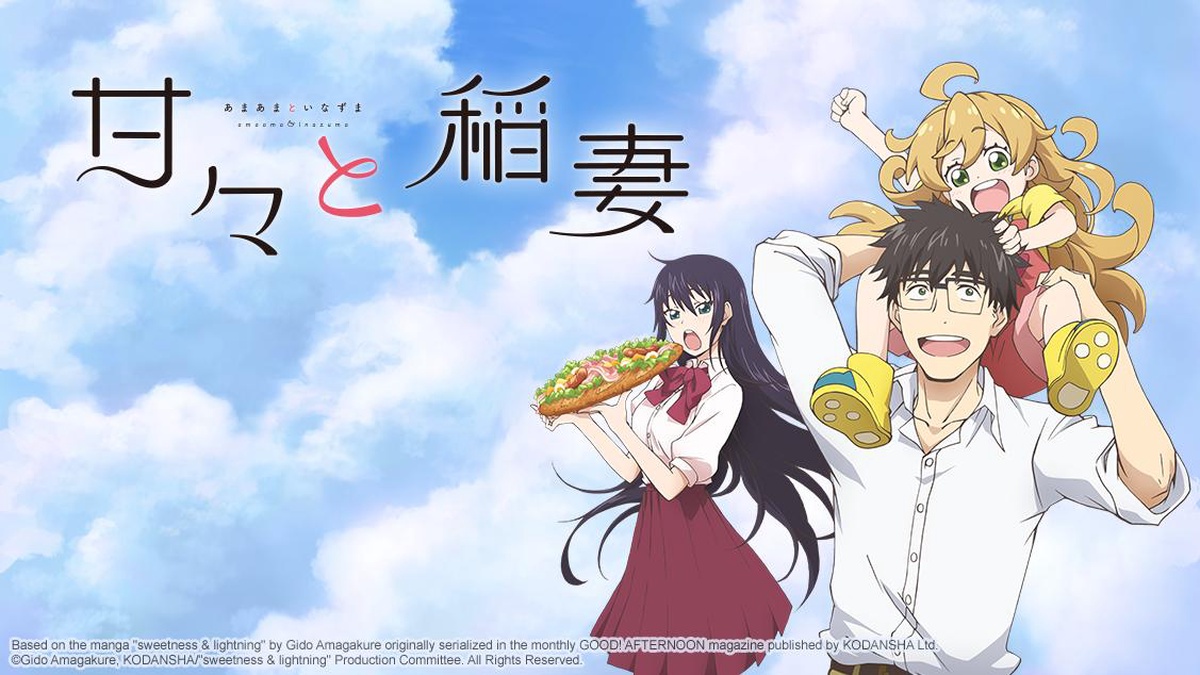 Kōhei Inuzuka is a teacher who, after the death of his wife, raised his daughter, Tsumugi, by himself. Having mainly purchased ready-made meals for his daughter since then, Kōhei's meeting with one of his students, Kotori Iida, has prompted him to start cooking to provide Tsumugi with the right food.
9. Natsume's Book of Friends
Takashi Natsume could see ghosts for as long as he can recall, inheriting the influence of his grandma Reiko Natsume. This talent caused him to have a lonely childhood because the children his age found him strange. He was often moved from one parent to another. Upon her passing, Reiko left her grandson the Book of Enemies, a book containing the names of the spirits she had been bullied into servitude.
10. Just Because!
As another school year comes to an end, third-year high school students look forward to the next step in their lives: graduation. Mio Natsume, a girl plagued with lingering feelings; Hazuki Morikawa, a member of the performance band but estranged from the rest; and Haruto Souma, an athlete obsessed with baseball, are among them.
Meanwhile, Ena Komiya, a second-year student, is determined to restore the photography club to its former grandeur, refusing to let the group collapse. Despite the fact that this group has little in common, their lives are brought together by the arrival of a third-year transfer student.
While most people would consider a transfer so close to graduation to be uncommon, Eita Izumi sees it as business as usual. Because of his father's business, he has never been able to stay in one place for an extended period of time.
11. Bartender
Bartender is an excellent anime for late-night viewing. We follow protagonist Ryuu Sasakura as he concocts various drinks to help his customers with their problems in a small and comfortable bar. The show uses low-key music and reduced colors to create a relaxing and calming atmosphere.
As we witness each of the guests try a new drink prepared by Ryuu, we are moved by its healing abilities and helpful advise. Bartender delivers comfort on a personal level, leaving viewers comfortable yet emotionally refreshed at the end of the evening!