Gears of War is a third-person shooter game with an amazing storyline, and if you are a fan of this type of game or simply want to play games like Gears of War, then this is the perfect article for you.
Because In this article, we've compiled a list of the 15 Best Games Like Gears Of War that will provide you with the best third-person shooter experience with an amazing storyline.
Best Games Like Gears Of War
1. Resident Evil 6
Resident Evil 6 is a third-person shooter game.
The opportunity to choose between three situations with numerous individuals and connected tales adds to the variety of the gameplay experience. Both story and action collide in these scenarios. Other features include zombies and new adversaries, upgradeable weapons and characters, vehicle-based choices, the mini-game-based Mercenaries mode, and single-player and co-op play options.
Resident Evil 6 is a game that you should know what to expect by now. If you can accept its more action-focused gameplay and absence of horror, Resident Evil 6 is an entertaining game with a lot of stuff, and its remaster makes it look even better for Gears Of War fans.
2. Outriders
Outriders is a co-op RPG shooter with 1-3 players set in a unique, dark, and desperate sci-fi environment. You will design your own Outrider and set off on a journey across the hazardous planet. With an excellent narrative that spans a wide range of worlds.
Outriders is an excellent game that combines the well-known concepts of Destiny with a Gears of War-like gameplay. Its story is frequently funny but equally serious; its fighting forces you to take cover and attack, and its powers make you unbelievably strong but prone to overestimation.
Outriders, People Can Fly's RPG-shooter, finds ways to mix well-worn video game elements into something unique and exciting if you can find the balance.
3. The Last of Us
The Last of Us is an action-adventure video game that was released in 2013. Infected people run amok twenty years after a pandemic fundamentally altered known civilization, and survivors attack one another for food and weapons – basically whatever they can get their hands on.
The Last of Us They have created a consistent and engaging environment that is backed by almost all of the game mechanics. From the rich and complicated fighting system to the magnificent sound design, this game submerges the player in one of the most visceral storylines of this age.
Perhaps the AI should have been improved, but generally, this game demonstrates how far the craft of developing video games has progressed.
4. Mass Effect Legendary Edition
Mass Effect is a great sci-fi game with a great story. The Mass Effect Legendary Edition features single-player base gameplay.
The trilogy keeps a wonderful storyline and the complex RPG gameplay for which Bioware became famous. With over 100 hours of content, incredible gameplay ability, and a cast of iconic characters, Mass Effect Legendary Edition is a must-play for every lover of science fiction and RPGs. We highly suggest Gears of War players check out Mass Effect.
5. World War Z: Aftermath
World War Z: Aftermath is the great co-op zombie shooter game inspired by Paramount Pictures and already successful game World War Z.
You can Join up to three friends or play on your own with AI teammates against hordes of ravenous zombies.
The addition of the Vanguards class, more story objectives, and the Horde XL upgrade, which adds more hordes of the undead to take down, results in a very nice update to an already outstanding co-op zombie shooter.
Overall, World War Z: Aftermath is a fantastic team-based shooter game, and I highly suggest it to Gears of War fans, who will love it.
6. Aliens: Fireteam Elite
Aliens: Fireteam Elite is a multiplayer third-person shooter with co-op and RPG elements that drops your fireteam of hardened marines into a desperate battle to control the growing Xenomorph danger.
A fun cooperative shooter with a wonderful atmosphere and plenty of customization options.
Despite its low price, there's plenty here to keep you engaged for hours, especially when you've completed your early run through all four acts and began fighting them again with increasing difficulty levels in search of continuously better equipment.
There's a lot of joy in customizing and controlling a few classes with enough detail to make them into the Colonial Marine you need at the time, but if you get together with two friends, you'll have fun-killing aliens.
7. The Division 2
The Division 2 is one of the greatest looter shooter games available.
The division 2 placed you in Washington D.C., 7 months after a fatal virus was released in New York City, and the country has become a shadow of its former self. Enter The Division, a team of civilian sleeper spies tasked with preventing opposing forces from entirely taking over the city.
The Division 2 is without a doubt the best game of its kind; it achieves the perfect balance of fun, challenge, loot drops, and gorgeous graphics.
I would highly recommend Tom Clancy's The Division 2 to just about anyone, even if you weren't a huge fan of Gears of War.
8. Red Faction: Guerrilla
Red Faction: Guerrilla is a 3rd person, open-world action shooter set on Mars.
The game is incredible in every way, from the story to the gameplay and graphics, and I have to admit that I was delighted that the Re-Mars-tired release did seem like a major upgrade, even if it was just a re-release of the same game with improved graphics put on top.
A large open environment, compelling gameplay, a variety of multiplayer settings, and fascinating graphics combine to produce a game that many action fans will enjoy for hours.
Overall, Red Faction Guerrilla Re-Mars-there is a game I would strongly suggest to anybody, especially Gears of War fans.
9. Metal Gear Solid V: The Phantom Pain
Metal Gear Solid V is by far the best-playing game in the series. The greatest features from previous games have been intact, and the new open-world gameplay offers even more to enjoy.
There has never been a Metal Gear game with such a constant tone in terms of storyline. You get to select where and how you do missions, and if sneaking isn't your thing, that's great too.
The base-building is a nice element that fit in well with the story and universe. The story progresses slowly but ends with a flash.
10. Vanquish
Vanquish, a third-person shooter video game created by PlatinumGames and released by Sega is one of the top suggestions for Gears of War fans.
Vanquish is a massive sci-fi shooter featuring a quick, dynamic, stunning graphics and frenetic combat system with an engaging and deep storyline.
Vanquish rewards those who take their time and use every tool the AR suit has to offer with some amazing game fight scenes. Throw in a large range of weaponry, and you've got everything you need for a superb, albeit fast, action experience.
11. Spec-Op: The Line
Spec Ops: The Line is a 2012 third-person Spec Ops: The Line is a 2012 third-person shooter game that includes provocative and engaging Third-Person modern military Shooter action.
Spec Ops: The Line is a great third-person shooter that provides Spec Ops: The Line. On the surface, The Line appears to be a typical third-person military shooter, but digging a bit deeper reveals its dark side of war. War is horrible, and no game has conveyed this more effectively than The Line. The decisions you are forced to make and the effects they produce are extremely gritty and realistic of what soldiers are likely to face in war.
Spec Ops: The Line is a must-play for Gears of War fans looking for a solid third-person shooter that delivers an intense action-packed military shooter.
12. Remnant: From the Ashes
Remnant: From the Ashes is an action role-playing third-person shooter Game.
Remnant: From the Ashes is a challenging, co-op-focused third-person shooter game with a surprising amount of complexity in both action and story. Its weapons and powers are varied and enjoyable to use, allowing for a wide range of unique builds. While the challenge might feel unequal at times, defeating a strong opponent is always satisfying.
In the story, an old evil from another dimension has thrown the planet into disarray. As one of humanity's final survivors, you must go alone or with up to two other survivors.
Remnant: From the Ashes is one of the best ARPGs produced in recent times, so if you like Gears of War or third-person shooters, in particular, I'm sure you'll enjoy killing the creatures that lurk in its post-apocalyptic environment.
Overall, it's a terrific game with one of the best and most satisfying co-op experiences available.
13. Binary Domain
Binary Domain is a Sega-published sci-fi third-person shooter game developed by Ryu Ga Gotoku Studio.
A fascinating story draws you in and won't let you go until you've seen how it all finishes. Apart from that, Binary Domain is a fun shooter with simple controls and a pleasant Japanese atmosphere.
Binary Domain immerses players in a fast-paced and violent war for mankind in a robot-invaded Tokyo of 2080. Players control an international peace-keeping crew that soon begins to doubt their surroundings and the decisions they are making as they fight through the city's dilapidated lower levels.
Overall, if you enjoy sci-fi, frenetic shooters, and Gears of War, Binary Domain is a must-have. It's similar to Gears of War in many ways.
14. Uncharted series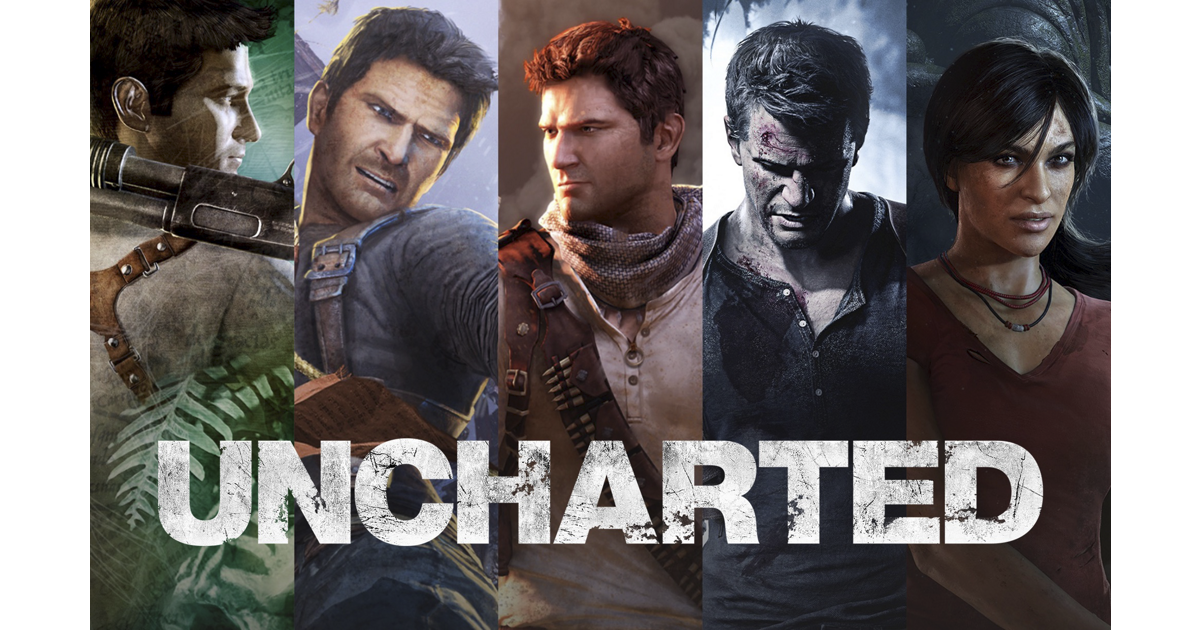 The Uncharted series does not have the same sci-fi concept as Gears or many of the other games on our list, but it's one of your best choices if you're searching for a game with Gears Of War gameplay in a different environment.
It's a third-person action-adventure with puzzle-solving and opponent stealth, but the majority of the gameplay involves shooting, taking cover, and being on the go because opponents can quickly flush you out if you stand still for too long.
15. Battlefield 2042
Battlefield 2042 is a first-person shooter that sees the brand return to its legendary all-out combat. Learn and adapt to constantly shifting battlegrounds with the support of your team and a cutting-edge armament in a near-future planet ravaged by chaos. A total of 128 players can be accommodated.
The large, well-designed maps allow for plenty of experiments and emerging themes, and the modes are entertaining. And that's just in terms of all-out war. With that, Hazard Zone, and the massive Battlefield Gateway, Battlefield 2042 caters to a wide range of players without feeling overloaded.
if you are a fan of the Gears Of War series you will definitely enjoy this modern combat game.