Isekai is a kind of fantasy anime where a protagonist transported or reborn from the realm they know to an unknown one. Typically, the isekai series will place a character in a magical realm of fantasy, though hardly it appears in reverse.
In current years, there has been a huge influence of isekai anime, somewhat due to the worldwide fame of Sword Art Online. However, this isekai anime list will not cover SAO. Rather, we will concentrate on other fantasy anime that is, dare we say, more enjoyable than SAO.
Here are ten isekai anime titles that approach the isekai genre in unique and innovative ways.
Read Also:
Best Isekai Anime
The Devil Is A Part-Timer!
The Devil Is A Part-Timer! is a another reverse Isekai Anime, The Demon Lord Satan attempts to capture the world of Ente Isla by annexing its four regions with the help of his demon generals Alciel, Lucifer, Malacoda, and Adramelech. After being faced by the hero Emilia and her comrades, after they had killed Malacoda and Adramelech, Satan and Alciel escape the world of Ente Isla into a gate to modern Tokyo, Japan.
After arriving in the Tokyo Demon Lord Satan struggle to adjust to the new world, however, due to the shortage of magic in the modern contemporary world, both Satan and Alciel change into forms representing what they would look like if they were human. In order to survive, Satan takes a part-time job in a fast-food restaurant named MgRonald, while Alciel serves as his houseman.
Re:Zero
Subaru Natsuki is a NEET who does nothing but play games. One night, after visiting a store, he is suddenly summoned to another world. With no indication of who summoned him, he soon helps a silver-haired half-elf girl who presents herself as Satella and her friend Puck. Stella mentions that her insignia was stolen by a thief named Felt.
When he and "Satella" are mysteriously killed, Subaru awakens and discovers that he has acquired an ability which he names "Return by Death," enabling him to reverse time by dying.
GATE
In modern-day Ginza, Tokyo, a portal from another world suddenly appears and a legion of soldiers and monsters emerge to attack the city. Using more advanced weaponry and tactics, the Japan Self-Defense Forces easily resist the enemy and pass through the Gate to build a forward operating base and initiate peace agreements with the Empire of the other world.
However, Japan's exclusive access to the Gate is envied by the other nations of the world, who wish to exploit the Special Region (特地, Tokuchi) (Japan's designation for the other world) for their own purposes. Also, the JSDF's activities are closely monitored by their government, who hesitate to associate themselves any further into the Special Region's affairs out of fear of public disapproval.
The Rising of the Shield Hero
Naofumi Iwatani, a young student, was gathered into a parallel world along with three other young men from parallel universes to become the world's Cardinal Heroes and fight inter-dimensional hordes of monsters called Waves. Each of the heroes was respectively equipped with their legendary gear when summoned.
Naofumi happened to get the Legendary Shield, the sole defensive equipment, while the other heroes received a sword, a spear, and a bow, weapons meant for an attack.
Unlike the other heroes who are fully supported by the kingdom and gain several strong allies each, Naofumi's luck turns to the worse after his single companion, revealed to be the kingdom's Princess, tricks him, steals all his belongings, and leaves him devoid of all assistance and supplies after she falsely accuses him of sexually assaulting her.
The Familiar of Zero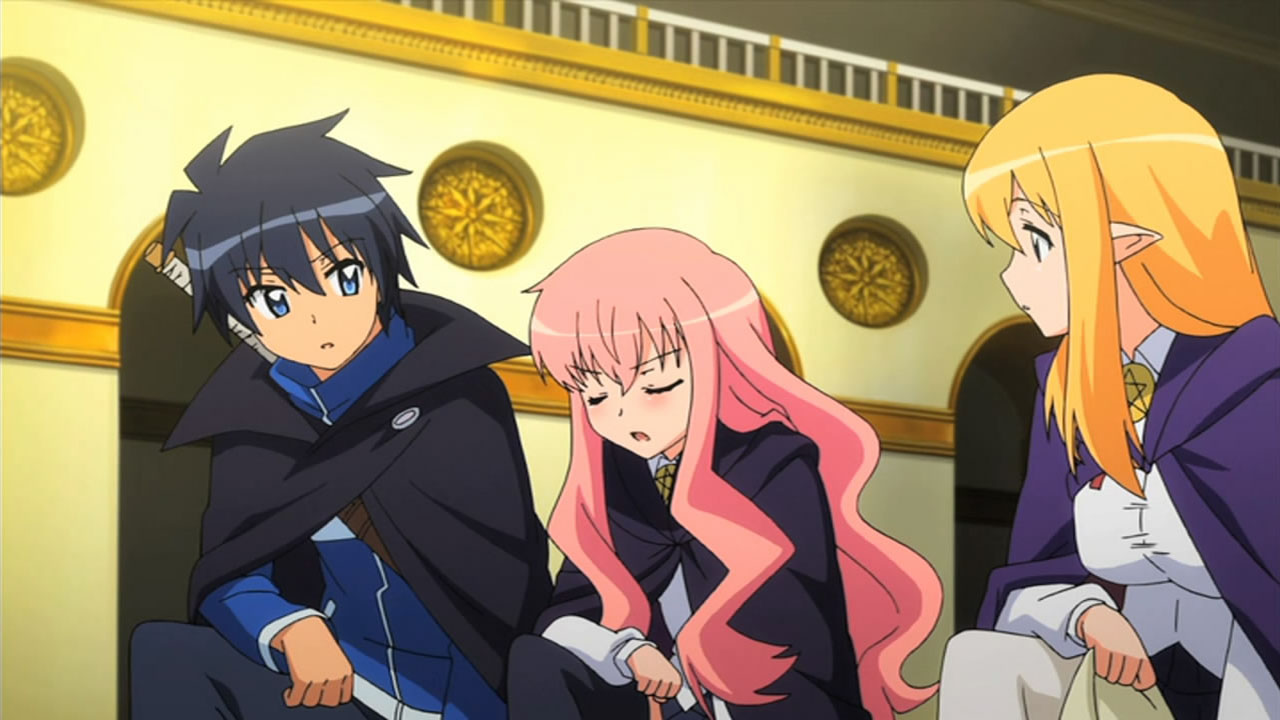 Louise is a member of the nobility who is terrible at magic, as her efforts usually result in an explosion. She is nicknamed "Louise the Zero" by her classmates, due to her disability to use any of the four magic elements.
Early in the school year at the Tristain Academy of Magic, the second-year students perform a special ritual where they summon their familiar, which serves as their eternal partner, protector, and is usually some sort of magical being. But Louise summons Saito Hiraga, an average teenage boy from Japan, leaving her totally humiliated.
Overlord
In the year 2126, a Dive Massively Multiplayer Online Role-Playing Game or MMORPG called YGGDRASIL was released, After an intense twelve-year run the game servers are about to be shut down. Within the game exists a guild, Ainz Ooal Gown, once consisting of 41 members and credited as one of the strongest guilds in the game.
Now only 4 of the members remain, the other 37 having quit the game, and only one, a skeletal "Overlord" character named Momonga, continues to play as the guild leader, maintaining their headquarters in The Great Tomb of Nazarick. In the minutes before the shutdown, he invites the remaining guild members.
When the shut-down time arrives, Momonga finds that the game hasn't vanished; instead, it appears as if YGGDRASIL has been recreated as its reality along with its various NPCs having been brought to life.
The 8th Son? Are you kidding?
Waking up in a new world, 25-year-old Shingo Ichinomiya realizes that he is in the body of a six-year-old. Retaining memories of his stressful life working at a firm company, Shingo learns that the person he is occupying is Wendelin Von Benno Baumeister, the eighth son of a poor noble family living in the countryside.
In Another World with My Smartphone
Fifteen-year-old Touya Mochizuki is unintentionally killed by God. As an excuse, God lets him be resurrected, but since he cannot send him back to his old world, he instead reincarnates him into a fantasy world along with a single special request.
Touya uses his request to bring his smartphone into the new world with him, which God alters. As such, while Touya cannot contact his old world with it, the phone can be easily recharged by magic and can otherwise function such as accessing data from the old world and can use relevant features for his new world such as the GPS function to locations which are comprehensively identified on it.
God also greatly amplifies Touya's physical, magical, and cognitive abilities to a certain degree as a further apology for the inconvenience of killing him.
Wise Man's Grandchild
A young salaryman who died in an accident was reborn in another world filled with magic and demons. As a baby, he was picked up by the patriot hero "Sage" Merlin Wolford and was given the name Shin.
He was raised as a grandson and soaked up Merlin's teachings, earning him some irresistible powers.
Nevertheless, when Shin became 15, Merlin realized, "I forgot to teach him common sense!" Museum, king of the Earlshide Kingdom, recommends Shin to attend his Magic Academy, on the agreement of not using Shin for political warfare. In the capital, Shin rescues two girls, Maria and Sizilien, from thugs, and later he would inaugurate a club that consists of him and others.
No Game No Life
Sora and Shiro are two hikikomori step-siblings who are known in the online gaming world as Blank, an unbeaten group of gamers. One day, they are challenged to a game of chess by Tet, a god from another reality. The two are successful and are offered to live in a world that centers around games.
They accept, considering it to be a joke, and are summoned to a reality known as Disboard. There, a spell known as the Ten Pledges limits the citizens of Disboard from causing harm to one another, forcing them to settle their differences by playing with games whose rules and rewards are magically enforced.
The Devil Is a Part-Timer!
Striking fear into the hearts of mortals, the Demon Lord Satan begins to conquer the land of Ente Isla with his vast demon armies.
However, while embarking on this brutal quest to take over the continent, his efforts are foiled by the hero Emilia, forcing Satan to make his swift retreat through a dimensional portal only to land in the human world.
Along with his loyal general Alsiel, the demon finds himself stranded in modern-day Tokyo and vows to return and complete his subjugation of Ente Isla—that is, if they can find a way back!
By the Grace of the Gods
Deep in the forest, far from any human contact, there lives a child named Ryouma Takebayashi. He engages in the rather strange hobby of keeping various types of slimes as pets. Furthermore, despite his young age, he has a sturdy physique and good compatibility for magic. All of this is because, having endured much hardship in his previous life, three gods grace Ryouma with a second chance to pursue one goal: savor the wonders of life.
After three years of comfortable solitude pass by, Ryouma meets people that will change his current life forever. When he encounters and helps some soldiers tend to their wounded comrade, the group convinces him to accompany them to visit the nearby town's ducal family. Ryouma agrees and soon embarks on a journey to explore the vast world beyond his home.
Mushoku Tensei
Despite being bullied, scorned, and oppressed all of his life, a thirty-four-year-old shut-in still found the resolve to attempt something heroic—only for it to end in a tragic accident. But in a twist of fate, he awakens in another world as Rudeus Greyrat, starting life again as a baby born to two loving parents.
Preserving his memories and knowledge from his previous life, Rudeus quickly adapts to his new environment. With the mind of a grown adult, he starts to display magical talent that exceeds all expectations, honing his skill with the help of a mage named Roxy Migurdia. Rudeus learns swordplay from his father, Paul, and meets Sylphiette, a girl his age who quickly becomes his closest friend.
As Rudeus' second chance at life begins, he tries to make the most of his new opportunity while conquering his traumatic past. And perhaps, one day, he may find the one thing he could not find in his old world—love.
KonoSuba
After dying a laughable and pathetic death on his way back from buying a game, high school student and recluse Kazuma Satou finds himself sitting before a beautiful but obnoxious goddess named Aqua. She provides the NEET with two options: continue on to heaven or reincarnate in every gamer's dream—a real fantasy world! Choosing to start a new life, Kazuma is quickly tasked with defeating a Demon King who is terrorizing villages. But before he goes, he can choose one item of any kind to aid him in his quest, and the future hero selects Aqua. But Kazuma has made a grave mistake—Aqua is completely useless!
Unfortunately, their troubles don't end here; it turns out that living in such a world is far different from how it plays out in a game. Instead of going on a thrilling adventure, the duo must first work to pay for their living expenses. Indeed, their misfortunes have only just begun!
Log Horizon
In the blink of an eye, thirty thousand bewildered Japanese gamers are whisked from their everyday lives into the world of the popular MMORPG, Elder Tale, after the game's latest update—unable to log out. Among them is the socially awkward college student Shiroe, whose confusion and shock lasts only a moment as, a veteran of the game, he immediately sets out to explore the limits of his new reality.
Shiroe must learn to live in this new world, leading others and negotiating with the NPC "natives" in order to bring stability to the virtual city of Akihabara. He is joined by his unfortunate friend Naotsugu, having logged in for the first time in years only to find himself trapped, and Akatsuki, a petite but fierce assassin who labels Shiroe as her master. A tale of fantasy, adventure, and politics, Log Horizon explores the elements of gaming through the eyes of a master strategist who attempts to make the best of a puzzling situation.
How Not to Summon a Demon Lord
When it comes to the fantasy MMORPG Cross Reverie, none can match the power of the Demon King Diablo. Possessing the game's rarest artifacts and an unrivaled player level, he overpowers all foolish enough to confront him. But despite his fearsome reputation, Diablo's true identity is Takuma Sakamoto, a shut-in gamer devoid of any social skills. Defeating hopeless challengers day by day, Takuma cares about nothing else but his virtual life—that is, until a summoning spell suddenly transports him to another world where he has Diablo's appearance!
In this new world resembling his favorite game, Takuma is greeted by the two girls who summoned him: Rem Galeu, a petite Pantherian adventurer, and Shera L. Greenwood, a busty Elf summoner. They perform an Enslavement Ritual in an attempt to subjugate him, but the spell backfires and causes them to become his slaves instead. With the situation now becoming more awkward than ever, Takuma decides to accompany the girls in finding a way to unbind their contract while learning to adapt to his new existence as the menacing Demon King.
That Time I Got Reincarnated as a Slime
Thirty-seven-year-old Satoru Mikami is a typical corporate worker, who is perfectly content with his monotonous lifestyle in Tokyo, other than failing to nail down a girlfriend even once throughout his life. In the midst of a casual encounter with his colleague, he falls victim to a random assailant on the streets and is stabbed. However, while succumbing to his injuries, a peculiar voice echoes in his mind, and recites a bunch of commands which the dying man cannot make sense of.
When Satoru regains consciousness, he discovers that he has reincarnated as a goop of slime in an unfamiliar realm. In doing so, he acquires newfound skills—notably, the power to devour anything and mimic its appearance and abilities. He then stumbles upon the sealed Catastrophe-level monster "Storm Dragon" Veldora who had been sealed away for the past 300 years for devastating a town to ashes. Sympathetic to his predicament, Satoru befriends him, promising to assist in destroying the seal. In return, Veldora bestows upon him the name Rimuru Tempest to grant him divine protection.
Now, liberated from the mundanities of his past life, Rimuru embarks on a fresh journey with a distinct goal in mind. As he grows accustomed to his new physique, his gooey antics ripple throughout the world, gradually altering his fate.
So I'm a Spider, So What?
The day is as normal as it can be in high school as the students peacefully go about their everyday activities until an unprecedented catastrophe strikes the school, killing every person in its wake. Guided by what seems to be a miracle, a handful of students are fortunate enough to be reincarnated into another world as nobles, princes, and other kinds of people with prestigious backgrounds.
One girl, however, is not so lucky. Being reborn as a spider of the weakest kind, she immediately experiences the hardships of her dire situation. Even so, she must press on to survive the numerous threats that endanger her life. Discovering that her new world has a system like that of an RPG, she tries her best to hunt prey and defeat monsters to level up and evolve. As she gradually grows stronger, she hopes one day her efforts will be rewarded, and that she will be granted a better life.
I'm standing on 1,000,000
Yotsuya Yuusuke along with his classmates Shindou Iu and Hakozaki Kusue have been transported to a strange and unknown world inhabited by mythological creatures. As soon as they arrive, they meet somebody calling himself the Game Master who then grants them a time-limited quest. To aid them in this quest, he also bestows Shindou and Hakozaki with the roles of a Magician and a Warrior while Yotsuya is randomly granted the role of… a Farmer?!
This is how a hectic life of adventuring began for three students who now have no choice, but to complete random quests for several phases in the fantasy world if they want to stay alive and protect the real world from the demons and monsters they encounter.
Drifters
At the Battle of Sekigahara in 1600, Toyohisa Shimazu is the rearguard for his retreating troops, and is critically wounded when he suddenly finds himself in a modern, gleaming white hallway. Faced with only a stoic man named Murasaki and hundreds of doors on both sides, Toyohisa is pulled into the nearest door and into a world completely unlike his own.
The strange land is populated by all manner of fantastical creatures, as well as warriors from different eras of Toyohisa's world who were thought to be dead. Quickly befriending the infamous warlord Nobunaga Oda and the ancient archer Yoichi Suketaka Nasu, Toyohisa learns of the political unrest tearing through the continent.
Furthermore, they have been summoned as "Drifters" to fight against the "Ends," people who are responsible for the creation of the Orte Empire and are trying to annihilate the Drifters. As the Ends grow more powerful, so does the Empire's persecution of elves and other demihumans. It is up to Toyohisa and his group of unconventional heroes to battle in a brand-new world war to help the Empire's subjects, while protecting the land to claim for themselves and challenging the Ends.
SPIRIT CHRONICLES
SPIRIT CHRONICLES is an of 2021 currently airing anime, The story revolves around Amakawa Haruto is a young man who died before reuniting with his childhood friend who disappeared five years ago. Rio is a boy living in the slums who wants revenge for his mother who was murdered in front of him when he was five years old.
Earth and another world. Two people with completely different backgrounds and values. For some reason, the memories and personality of Haruto who should have died is resurrected in Rio's body. As the two are confused over their memories and personalities fusing together, Rio (Haruto) decides to live in this new world. Along with Haruto's memories, Rio awakens an unknown "special power", and it seems that if he uses it well, he can live a better life.
HOW A REALIST HERO REBUILT THE KINGDOM
When Kazuya Souma is unexpectedly transported to another world, he knows the people expect a hero. But Souma's idea of heroism is more practical than most—he wants to rebuild the flagging economy of the new land he's found himself in! Betrothed to the princess and abruptly planted on the throne, this realist hero must gather talented people to help him get the country back on its feet—not through war, or adventure, but with administrative reform!
TSUKIMICHI -MOONLIT FANTASY
High school student Misumi Makoto is called to a fantasy world by the god Tsukuyomi in order to become a hero. However, powerful people in this world aren't as thrilled to have him there, and they kick him to the edge of the world just as Tsukuyomi declares that he must leave Makoto to find his own way. Now it's up to Makoto to find his own way!
CHEAT PHARMACIST'S SLOW LIFE
One day, a corporate slave Reiji, suddenly got transported to another world. He made the best of his skills to make better potions, which earned him lots of money, and with that money, made a drugstore! An Elf who has trouble aiming with his bow? Give him some eye-drops! A Dragon who always let breathes out fire unintentionally? Don't worry, we have cough medicine for you! Reiji's new, fun, slow life as a pharmacist in a village drugstore starts now!!
The Dungeon of Black Company
Kinji Ninomiya is a NEET who has amassed enough money through real-estate investment to fund a penthouse lifestyle without ever having to work. This changes when a portal suddenly transports him to a fantasy world where he quickly ends up enslaved to a mining company extracting crystals from a dungeon.
Desperate for a way out of this new poverty, Kinji tries to regain financial stability by any means necessary, gathering himself an unusual adventuring party – the titular black company – in the process.
Demon Lord, Retry!
As Akira Ono prepares to shut down the servers of his creation, the MMORPG Infinity Game, he suddenly finds himself in the body of his character, Demon Lord Hakuto Kunai, after an unexplained event. The new world he wakes up in appears to be set within Infinity Game, but with some differences.
He encounters and summons various companions who join him on his travels, and his reputation as "Demon Lord" spreads throughout the land, making him a target. Eventually, Ono/Kunai finds himself having to deal with the sociological problems of the Kingdom of Holy Light and the Satanist cult that opposes it, as he continues to pursue his mission of finding out why and how he was summoned.
The Evolution Fruit
Seiichi's journey from being tormented by his classmates and neglected as a companion to his hard work, good attitude, and survival in this new world is chronicled in this story. As a result, he finds himself among the champions before he realizes it.
Only one episode has been released so far, but it appears to be promising; you should certainly check out this new anime.