If you're seeking some Best Open World Game in 2020 video game titles to keep tabs on then we suggest checking out this list, mainly if you enjoy games.
Nothing can help you escape the real world for a time than a video game. Losing yourself in a fantasy world, or an advanced future is almost therapeutic.
From fantasy realms to simulated universes, from smart cities to post-apocalyptic world, the best open-world games give players the freedom to decide their own path—to do what they want, when they want—and provide an interesting and rewarding setting for their self-guided experiences.
Open World Game
Horizon Zero Dawn
Advertisement
PS4, PC
Horizon Zero Dawn is one of the Best Open World Game As well as being one of the best PS4 games around, Horizon: Zero Dawn is also one of the most original titles
A refugee from her clan, the young hunter fights to reveal her past, discover her future… and stop a catastrophic threat to the future.
Unleash destructive, tactical attacks against unique Machines and rival tribes as you explore an open world teeming with wildlife and danger.
Horizon Zero Dawn™ is a multi-award-winning action role-playing game – for PC includes the huge expansion The Frozen Wilds, featuring new lands, skills, weapons, and Machines.
Red Dead Redemption
PS4, XBOX
America, 1911. The Wild West is dying. When federal agents approach his family, former outlaw John Marston is made to pick up his guns again and hunt down the gang of criminals he once called friends.
Experience an epic fight for survival across the sprawling expanses of the American West and Mexico, as John Marston struggles to bury his blood-stained past, one man at a time.
The Witcher 3: Wild Hunt
PC, PS4, XBOX
The Witcher: Wild Hunt is one of the Best Open World Game set in a visually charming fantasy universe full of meaningful choices and impactful outcomes. In The Witcher, you play as expert monster hunter Geralt of Rivia tasked with finding a child of prophecy in a vast open-world rich with merchant cities, pirate islands, dangerous mountain passes, and forgotten caverns to explore.
As war rages on throughout the Northern Realms, you take on the greatest contract of your life — tracking down the Child of Prophecy, a breathing weapon that can alter the shape of the world.
Borderlands 3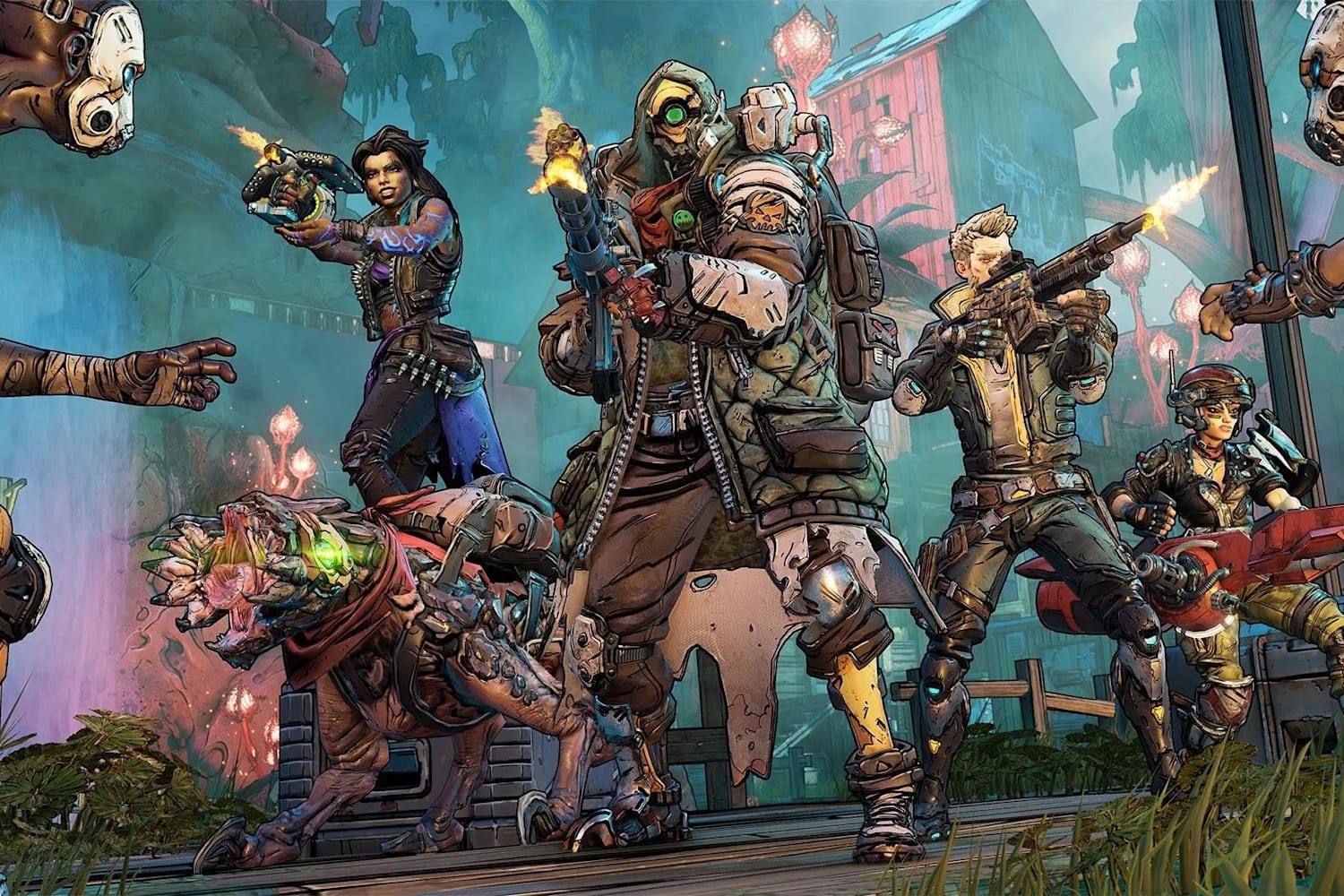 PC, PS4, XBOX
The original shooter-looter returns, packing bazillions of guns, and an all-new mayhem-fueled experience! Blast through new worlds and enemies as one of four brand new Vault Hunters – the ultimate treasure-seeking badasses of the Borderlands, each with deep skill trees, abilities, and customization.
Play solo or join with friends to take on crazy enemies, score loads of loot, and save your home from the most brutal cult leaders in the galaxy.
Grand Theft Auto 5
PC, PS4, XBOX
Every in gaming knows about GTA 5 its probably the Best Open World Game in the current gaming market.
Grand Theft Auto V offers players the option to travel the award-winning world of Los Santos and Blaine County in resolutions of up to 4k and beyond, as well as the chance to experience the game running at 60 frames per second.
The game offers players a huge range of PC-specific customization options, including over 25 separate configurable settings for texture quality, shaders, tessellation, anti-aliasing, and more, as well as support and extensive customization for mouse and keyboard controls.
Additional options include a population density slider to control car and pedestrian traffic, as well as dual and triple monitor support, 3D compatibility, and plug-and-play controller support.
Red Dead Redemption 2
PC, PS4, XBOX
Arthur Morgan and the Van der Linde gang are fugitives on the run. With federal agents and the best bounty hunters in the nation massing on their feet, the gang must rob, steal, and fight their way across the rugged heartland of America in order to remain.
As deepening internal divisions threaten to tear the gang apart, Arthur must make a choice between his own ideals and loyalty to the gang who raised him.
Assassin's Creed Odyssey
PC, PS4, XBOX
Choose your destiny in Assassin's Creed® Odyssey. From refugee to living legend, embark on an odyssey to reveal the secrets of your past and change the destiny of Ancient Greece.
TRAVEL TO ANCIENT GREECE
From lush lively forests to volcanic islands and bustling cities, start a journey of exploration and conflicts in a war-torn world shaped by gods and men.
FORGE YOUR LEGEND
Your choices will affect how your odyssey opens. Play through multiple endings thanks to the new dialogue system and the options you make. Customize your gear, ship, and special abilities to become a legend.
Assassin's Creed Valhalla (upcoming)
PC, PS4, XBOX
Assassin's Creed Valhalla is an upcoming action role-playing video game.
Become Eivor, a legendary Viking raider on a quest for glory. Explore England's Dark Ages as you raid your enemies, grow your settlement, and build your political power.
England in the age of the Vikings is a fractured nation of petty lords and warring kingdoms. Under the chaos lies a rich and untamed land waiting for a new victor. Will it be you?
Spider-Man: Miles Morales (upcoming)
PS4
Marvel's Spider-Man: Miles Morales is an upcoming action-adventure game.
Marvel's Spider-Man was a huge hit when it launched on the PlayStation 4, yet, it wasn't a surprise to find that a new part was going to release into the marketplace.
There's still not a ton of data available on what players can anticipate other than being Miles Morales Spider-Man this time around. Besides, we imagine that the same size map will be used giving players a big in-game world to travel.
No Man's Sky
PC, PS4, XBOX
No Man's Sky is a game about travel and survival in an endless procedurally generated universe.
Inspired by the adventure and vision that we love from classic science-fiction, No Man's Sky presents you with a galaxy to explore, filled with unique planets and lifeforms, and persistent danger and action.
In No Man's Sky, every star is the light of a distant sun, each orbited by planets filled with life, and you can go to any of them you choose. Fly easily from deep space to terrestrial surfaces, with no loading screens, and no limits.
In this infinite procedurally generated universe, you'll discover places and creatures that no other players have seen before – and perhaps never will again.
If you like our list of Best Open World Game, then comment your favorite game in comment down below.