It's difficult to choose just a few of the top games like Persona. People come to the JRPG franchise for a variety of reasons! It could be the dating sim part, or it could be the deep dungeon diving and turn-based battle. Or maybe you just want an experience set in the present day, something not many role-playing games provide.
In this article, we've chosen 20 Games Like Persona That Are Just as Awesome
Read Also:
Games Like Persona
1. Final Fantasy XV
Channel the power of your ancestors to warp effortlessly through the air in exhilarating combat, and master the abilities of weaponry, magic, and team-based assaults with your teammates in an action-packed fighting system.
The stunning and carefully constructed experience of FINAL FANTASY XV may now be enjoyed like never before, thanks to the strength of cutting-edge technology for Windows PCs, including support for high-resolution screens and HDR10.
2. Crystal Story II
Crystal Story II is a turn-based role-playing game that recounts the adventures of a young Dragon on his mission to destroy an evil sorceress. He must seek allies to help him on his quest to preserve the world from the impending invasion.
3. Shin Megami Tensei: Digital Devil Saga
Shin Megami Tensei: Digital Devil Saga is a duology of role-playing video games developed by Atlus for the PlayStation 2.
Players control the characters Serph, Heat, Argilla, Gale, and Cielo in the Shin Megami Tensei: Digital Devil Saga role-playing games, with Sera and Roland becoming playable in Digital Devil Saga 2. These characters have the ability to turn into a demon form, which they use in battle.
Characters navigate to-scale environments, fighting enemies in both random encounters and story-focused boss battles. After each battle, experience points are awarded to characters.
4. Dragon Quest XI: Echoes of an Elusive Age
DRAGON QUEST XI S is the last entry in the legendary RPG series from creator Yuji Horii, character designer Akira Toriyama and composer Koichi Sugiyama.
This eleventh main edition is a completely separate experience with new characters, a gorgeously drawn world, well-designed turn-based combat, and an absorbing plot that will appeal to both longtime fans and newbies to the brand.
5. The Legend of Heroes: Trails of Cold Steel
The video game The Legend of Heroes: Trails of Cold Steel is a role-playing game. Erebonia's best learn everything from the art of battle to the liberal arts at Thors Military Academy. Rean Schwarzer, a first-year student, discovers that he has been chosen to join the contentious Class VII, and they will have to cope with more than just class warfare—they will have to protect their country from disaster.
6. Yakuza: Like a Dragon
Become Ichiban Kasuga, a low-ranking yakuza grunt who was abandoned on the verge of death by the guy he trusted the most. Take up your famous bat and prepare to smash some underworld skulls in this exciting RPG set in modern-day Japan.
7. The Banner Saga
Experience an epic role-playing Viking saga in which your strategic decisions have a direct impact on your personal journey. As you journey with your caravan over this beautiful but brutal region, make allies. Choose people who will assist in combating a new threat that threatens an entire civilization with care. Every choice you make in travel, discussion, and conflict has an impact on the fate of your tale as it unfolds. Not everyone will live, but those who do will be remembered.
8. Tokyo Mirage Sessions #FE Encore
Tokyo Mirage Sessions ♯FE is a 2015 role-playing game developed by Atlus and published by Nintendo for the Wii U home console.
The game, set in modern-day Tokyo and utilizing real-life places such as Shibuya and Harajuku, revolves around hostile entities known as Mirages who seek to collect human energy known as Performa and are responsible for multiple disappearances.
The plot revolves around a group of youngsters who form alliances with friendly Mirages based on Fire Emblem characters and merge with them to become Mirage Masters. The Mirage Masters, operating under the pretense of the Fortuna Entertainment talent agency, the battle to defend innocent people from the Mirages and to discover who is behind the attacks.
9. Tales of Berseria
In Tales of Berseria, players take on the character of Velvet, a young lady whose previously pleasant disposition has been replaced and overrun with a festering resentment and hatred following a horrific occurrence three years prior to the events of Tales of Berseria.
In an all-new adventure created by the famous team behind the Tales of series, Velvet will join a group of pirates as they sail across the sea and discover the many islands that make up the sacred kingdom of Midland.
10. Ys: Memories of Celceta
Adol Christin, the world's most famous redhead adventurer, awakens in the strange continent of Celceta, remembering nothing but his own name. Adol, bereft of his past, investigates the town he happened to stumble into, looking for any clues to his identity.
The youthful adventurer, aided by a criminal who claims to have spent some time at his side in recent weeks, assists in the rescue of doomed miners from a collapse – an act that endears him to the local Roman Army general. Impressed by their abilities, the couple is tasked with exploring the Great Forest of Celceta and mapping its enormous expanses – a mission that many have attempted in the past, but none have ever returned alive.
11. Shin Megami Tensei III: Nocturne
When the Conception—an ethereal apocalypse—is evoked, what begins as a routine day in Tokyo turns out to be anything but. As a demonic revolution descends into a ruined city, the ruins of the world are swallowed up by anarchy. Caught between a conflict of Gods and devils, your decisions can bring life, rebirth, or death, and determine who wins.
12. Xenoblade Chronicles
The Xenoblade Chronicles series' gameplay employs a real-time action-based battle system in which the player moves a character in real-time and party members "auto-attack" when adversaries within their attack radius.
Manually input attacks, known as "Arts," can also be done, although only to a limited extent. Battle Arts are only available after a "cool down" period that happens after each usage, whereas character-specific "Talent Arts" are only available after a certain number of auto-attacks are performed. Both party members and opponents have a limited number of health points, which are depleted by hits.
13. Octopath Traveler
There are eight passengers. There are eight adventures. There are eight roles to fill. Set out on an adventurous trip across Orsterra's wide and fascinating globe, discovering the captivating stories of each of the eight travelers.
14. Fire Emblem: Three Houses
Fire Emblem: Three Houses is a tactical role-playing game in which players control a character whose gender and name are determined at the start of the game. During the early hours of the game, the player character is requested to teach at the Garreg Mach Monastery, which serves as a hub for game activities. Choosing a specific house to teach has an impact on the story from that point on.
The player's time is split between story-based battles that drive the main plot and moments at Garreg Mach where they engage with students and staff members. While the first half of the game concentrates on this school system, the tale jumps ahead five years and focuses more on the fight, with the player trapped in the house they choose in the first half.
15. The World Ends With You
The World Ends with You is an action role-playing game set in a fictitious version of Tokyo's Shibuya shopping district. While normal life continues in the Realground (RG), the chosen dead are transported to another plane of existence known as the Underground (UG). The Reapers' Game is also held at the UG.
By offering their most treasured possession to enter the Game, the dead gain the chance to contest for the prize: to be brought back to life or to transcend to a higher form of spiritual existence. Most of those who choose to transcend become Reapers, the opponents of players in future Games.
Each Game, which lasts a week, is a competition to determine humanity's worth. Players set out to complete objectives according to the rules devised by the Composer, a god-like entity responsible for the upkeep of Shibuya. The Conductor, another Reaper, assigns other Reapers to disrupt the players' attempts. Failure to accomplish a task will disperse the player's or Reaper's mind and spirit, eliminating his or her existence.
16. Tokyo Xanadu
Tokyo Xanadu is an action role-playing game, In this definitive version of Tokyo Xanadu, experience the game in 60 FPS along with new scenarios, new playable characters, new modes, and more!
In an alternate universe, Tokyo was devastated by a massive earthquake in 2005, which took the city a decade to recover from. Kou Tokisaka, the game's protagonist, is a high school student living in Morimiya on the outskirts of Tokyo in 2015. He lives alone and works part-time. He notices his classmate Asuka Hiiragi in the bad company one day after work, late at night. Kou pursues them into a back alley.
17. I Am Setsuna
I Am Setsuna is a role-playing video game in which players control a group of characters as they navigate areas from an angled top-down perspective. Navigating the game's overworld allows you to reach locations such as towns and dungeons.
In towns, the party can speak with residents to learn more about the narrative and discover treasure chests holding essential equipment. Various products, such as healing potions and "Fogstone" items for escaping battle, are sold in shops throughout the realm.
18. Danganronpa: Trigger Happy Havoc
Hope's Peak Academy is home to Japan's greatest and brightest high school students—the future's lights of hope. However, that hope is dashed when Makoto Naegi and his classmates are imprisoned in the school, cut off from the outside world, and subject to the whims of a weird, homicidal little bear named Monokuma. He divides the kids, offering freedom to anyone who can murder a classmate and get away with it.
19. Monster Hunter Stories 2: Wings Of Ruin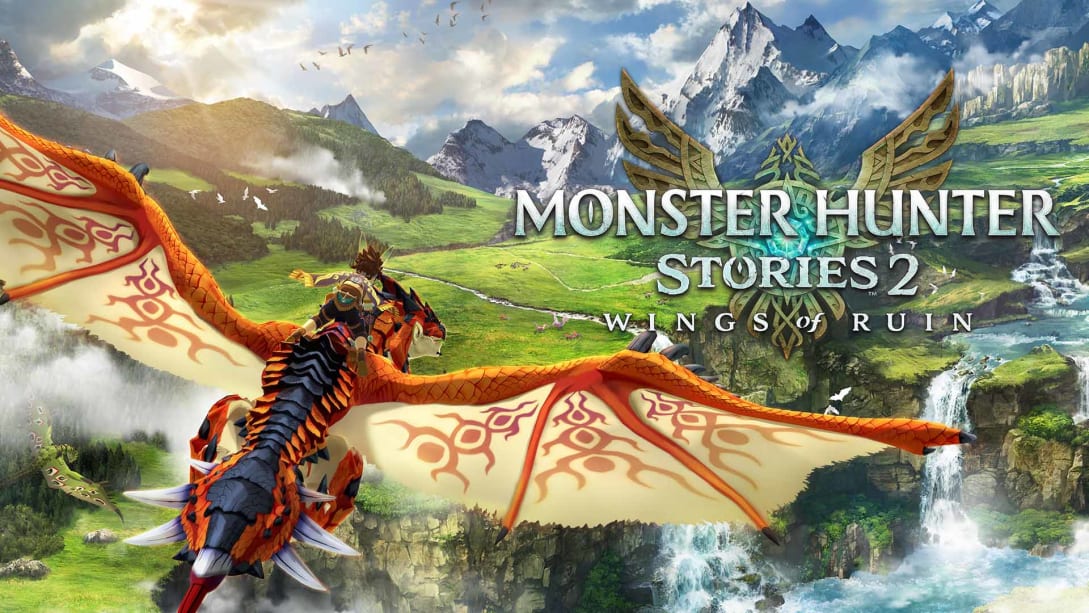 A new adventure awaits you in this second installment of the turn-based RPG series set in the world of Monster Hunter! Become a Rider and form bonds with friendly monsters known as Monsties to fight alongside them as you take part in an epic story.
You take on the role of Red, a legendary Rider's grandson. The story opens with a fateful encounter with Ena, a Syrian girl who has been entrusted with an egg that has the potential to hatch into a mythical Rathalos that, if awakened to its deadly might, could wreak havoc.
20. Valkyria Chronicles 4
Valkyria Chronicles 4 takes place in the same timeframe as the original Valkyria Chronicles, but with an entirely new story centering on Federation Squad E. Commander Claude Wallace and his boyhood pals head out to fight in a desperate war, but bone-chilling blizzards, waves of imperial soldiers, and the Valkyria's godlike abilities stand in their way.