Step into the captivating world of anime, where strategic brilliance takes center stage. In this article, we delve into a riveting collection of anime series that showcase protagonists whose intellect, tactics, and leadership prowess elevate them to the status of military geniuses.
From mind-bending battles to intricate geopolitical maneuvering, these characters redefine what it means to be a strategic genius in the world of anime. Join us as we explore these gripping narratives, where the fate of nations, civilizations, and even worlds rests in the hands of these exceptional individuals.
Anime where MC is Military Genius
| Anime | Main Character(s) | Military Genius |
| --- | --- | --- |
| Lord Marksman and Vanadis | Tigre | Yes |
| Heavy Object | Qwenthur and Havia | Yes |
| Rokka: Braves of the Six Flowers | Adlet Mayer | Yes |
| Knight's & Magic | Tsubasa Kurata (Ernesti Echevarria) | Yes |
Code Geass: Lelouch of the Rebellion
In "Code Geass: Lelouch of the Rebellion," set in the year 2010, the Holy Empire of Britannia exerts its military dominance, with Japan becoming its first conquest, renamed Area 11 after a swift defeat. This anime explores a gripping tale of resistance, with the main focus being Lelouch Lamperouge, a Britannian student who becomes an unexpected hero.
The Backstory: Japan's struggle for independence is at the heart of this narrative, as it resists Britannia's tyrannical rule. Caught in the crossfire, Lelouch Lamperouge's life takes a dramatic turn when he encounters the mysterious girl C.C., who grants him the enigmatic Geass, known as the "Power of Kings."
The Transformation: Armed with this power, Lelouch realizes its potential and adopts the persona of Zero, a masked vigilante. He becomes the embodiment of a military genius, leading a relentless campaign against Britannia to exact his revenge and free Japan from its oppressive grasp.
"Code Geass: Lelouch of the Rebellion" is a thrilling anime that delves into themes of power, rebellion, and strategy, with Lelouch's brilliant tactical mind at the forefront. This series captivates viewers with its intricate plot and complex characters, making it a must-watch for those intrigued by military genius and political intrigue in the world of anime.
Alderamin on the Sky
In the world of anime, "Alderamin on the Sky" offers a unique perspective. At its core is Ikta Solork, an unconventional hero. Amid a war between the Katjvarna Empire and the Republic of Kioka, Ikta, and his comrades are thrust into military service. However, what sets this anime apart is Ikta's genius.
Ikta, unlike traditional protagonists, lacks physical prowess or hidden powers. Instead, his exceptional intellect and ability to outmaneuver adversaries make him a military genius. His journey begins with a daring rescue mission, earning him and his team the prestigious title of Imperial Knights.
"Alderamin on the Sky" challenges the anime norm by showcasing that strategic brilliance can triumph over raw strength. In a world filled with battles, it's Ikta's mind that becomes the ultimate weapon, redefining heroism in the anime realm.
The Legend of the Legendary Heroes
In "The Legend of the Legendary Heroes," the protagonist Ryner Lute possesses a rare and ominous gift – the Alpha Stigma. These enigmatic eyes are both a blessing and a curse, capable of unraveling the intricacies of any magic but infamous for the destruction they can bring.
As a promising mage and bearer of the Alpha Stigma, Ryner embarks on a journey that intertwines destiny and duty. He and his steadfast companion, Ferris Eris, a skilled swordswoman, set out to recover relics of legendary heroes, all under the command of their close friend turned king, Sion Astal.
Set against the backdrop of a nation ravaged by war, Ryner's journey is fueled by his unwavering commitment to bring order and peace to Roland. Through twists and turns, this anime unveils the military genius within Ryner as he confronts his own cursed eyes and seeks to uncover their secrets.
Amidst a backdrop of violence and gore, "The Legend of the Legendary Heroes" weaves a captivating tale of a young military prodigy grappling with the weight of his abilities and the fate of his nation. Explore the depths of Ryner's character as he navigates a world where magic and mayhem collide, in a quest for legendary relics and redemption.
Lord Marksman and Vanadis
In the realm of fantasy Europe, a brewing conflict between rival nations forms the backdrop for "Lord Marksman and Vanadis." This anime unfolds a tale of military genius, featuring a captivating protagonist.
The stage is set in Zhcted, a country divided into seven regions, each ruled by formidable War Maidens known as Vanadis. These women wield potent dragon-carved weapons, and their sights are set on the neighboring rival nation of Brune. Here, the narrative introduces us to Eleonora "Elen" Viltaria, one of the Vanadis, who initiates an audacious invasion.
Enter Tigrevurmud "Tigre" Vorn, a young archer and Earl of Brune's Alsace region. His life takes an unexpected turn when his entire army is decimated by Elen's might. Instead of meeting his demise, Elen offers Tigre a surprising proposition: "Become mine!" This marks the inception of an unlikely alliance that forms the core of the story.
Based on Tsukasa Kawaguchi's light novel, "Madan no Ou to Vanadis," this epic adventure delves into the intricacies of warfare. Tigre's strategic brilliance becomes a central theme as he navigates a multinational conflict rife with dark secrets, conspiracies, and corruption.
In "Lord Marksman and Vanadis," the brilliant military mind of Tigre takes center stage, making it a must-watch for enthusiasts of tactical warfare and captivating storytelling.
Heavy Object
"In the futuristic world of 'Heavy Object,' the battlefield has undergone a radical transformation. The key to victory now lies in massive, impregnable spherical tanks known as 'Objects,' armed with devastating firepower. Enter Qwenthur Barbotage and Havia Winchell, members of the Legitimate Kingdom's 37th Mobile Maintenance Battalion. Their mission: support the mighty Baby Magnum, one of these formidable Objects.
However, a disastrous battle pushes them into an unimaginable situation, pitting infantry against the overwhelming might of an enemy Object. Amidst the chaos, a glimmer of hope emerges, forever altering the perception of these war machines.
Join our unlikely heroes, including the somewhat immature but undeniably realistic protagonist, as they crisscross the globe, battling insurmountable foes. In this anime, the main character's military genius, albeit coupled with occasional annoyance, takes center stage, providing a fresh perspective on the ever-evolving world of warfare."
Rokka: Braves of the Six Flowers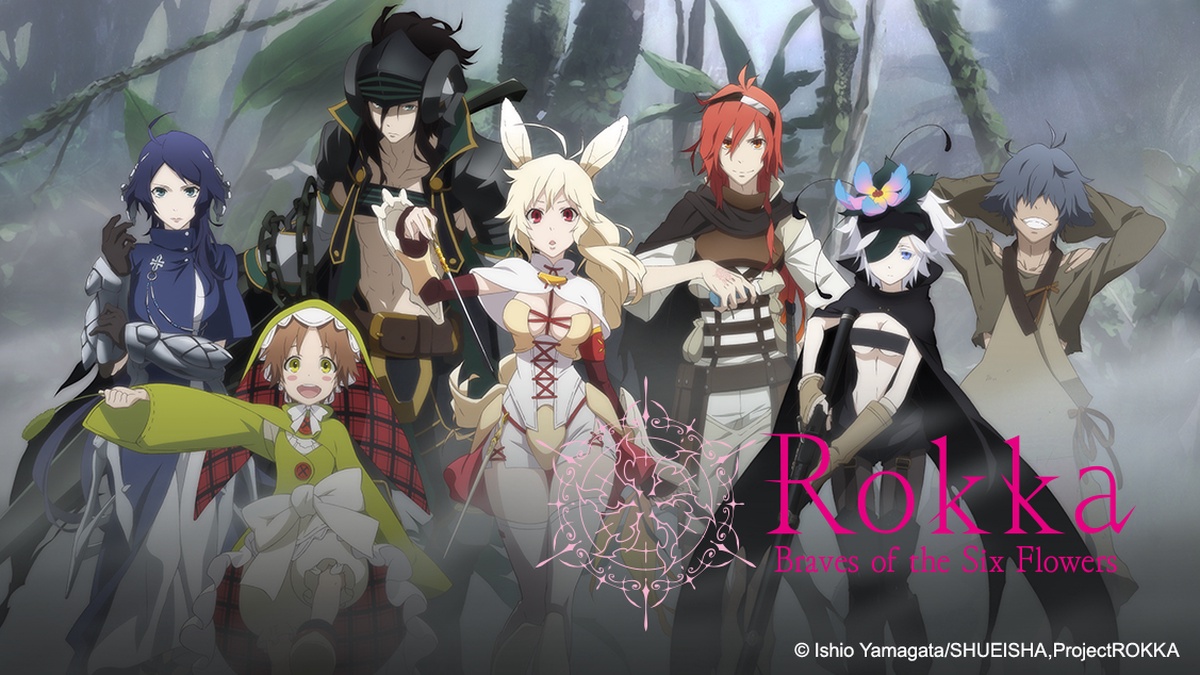 In the realm of anime, "Rokka: Braves of the Six Flowers" stands out as a thrilling tale of heroism and suspicion. This series revolves around the ancient prophecy of the Braves of the Six Flowers, chosen by the Goddess of Fate to combat the looming threat of the Demon God. Our main character, Adlet Mayer, boldly claims the title of the "Strongest Man in the World" and journeys to Piena with dreams of becoming one of these legendary Braves.
However, his path takes an unexpected turn when he is chosen as a Brave alongside Nashetania Loei Piena Augustra, the crown princess. Together, they embark on a quest to meet their fellow heroes and confront the Demon God. But here's where the intrigue unfolds – when the heroes finally unite, there are seven of them, not six. Doubt and suspicion shroud the group, and Adlet is accused of being an impostor.
Now, in a desperate bid to prove his authenticity, Adlet must rely on his unique skills and tactical brilliance to identify the true impostor among them. "Rokka: Braves of the Six Flowers" is a gripping anime that delves into themes of trust, betrayal, and the genius of military strategy as Adlet battles for his life and the fate of the world. Join us in unraveling the mystery behind this thrilling series.
Knight's & Magic
In "Knight's & Magic," follow the extraordinary journey of Tsubasa Kurata, a modern-day otaku who finds himself reborn in the medieval world of the Fremmevilla Kingdom. Here, the kingdom's survival hinges on the mastery of powerful mechs known as Silhouette Knights, used to combat nightmarish demonic creatures.
Reincarnated as Ernesti Echevarria, a member of a noble family, Tsubasa's rebirth also bestows him with unmatched magical prowess. His destiny unfolds at the Royal Laihaila Academy, an institution dedicated to training Silhouette Knight pilots. Here, the main protagonist's genius becomes evident as he teams up with twins Adeltrud and Archid Olter, harboring the audacious goal of resurrecting the long-forgotten art of crafting a Silhouette Knight.
In this thrilling tale, witness Tsubasa's meteoric rise as a military genius, defying centuries-old conventions to safeguard the kingdom from both supernatural and human threats. "Knight's & Magic" is a captivating exploration of fantasy, technology, and one individual's unrelenting pursuit of greatness.