Advertisement Continue To Read Below
The 21 best ecchi harem anime with badass male MC all have one thing in common: the main character is a total badass. Whether they're fighting giant monsters, saving the world from evil forces, or just trying to survive in a post-apocalyptic wasteland, these guys always come out on top. But what makes them even more awesome is that they're not afraid to show their softer side when it comes to the ladies.
With an endless supply of beautiful women by their side, these characters always find time to enjoy some steamy romance – whether it's with their main squeeze or with a new conquest. If you're looking for some hot and heavy action mixed with plenty of laughs, then be sure to check out one of these 21 great ecchi harem anime!
Related:
Ecchi Harem Anime
1. THE HIDDEN DUNGEON ONLY I CAN ENTER
Advertisement Continue To Read Below
This anime is very lighthearted with ecchi elements. The Hidden Dungeon Only I Can Enter is an anime about a boy who uncovers a hidden dungeon and learns amazing talents from a famous adventurer imprisoned there for generations. Noir is followed in the anime as he enrolls at the Hero Academy and uses his new talents to become the strongest adventurer. The anime has plenty of ecchi aspects, such as a harem of gorgeous girls drawn to Noir's courage.
2. Infinite Stratos
In Infinite Stratos, 15-year-old Ichika Orimura is forced to attend an all-female boarding school because he is the only male able to fly a female-piloted exoskeleton.
While there are some badass moments in the show, they are mainly overpowered by the ecchi components. From its numerous shower or bath scenes to its massive quantities of panty shots, Infinite Stratos is jam-packed with fan service. This is the show for you if you like a harem anime with an overpowering male protagonist and a lot of skin.
3. ARIFURETA
ARIFURETA is a harem anime with a powerful male protagonist. The anime follows Hajime Nagumo, a high school student who is taken to a fantasy realm and must use his alchemy powers to live.
He encounters a variety of characters, like the vampire Yue and the bunny-eared Shea, and builds a harem of girls who assist him on his adventure. The anime has a lot of ecchi aspects, such as fanservice and sexual references, which makes it a good viewing for lovers of the genre.
4. Saijaku Muhai no Bahamut
Advertisement Continue To Read Below
The protagonist of the ecchi harem anime Saijaku Muhai no Bahamut is Lux, a former prince who is now referred as as the "undefeated weakest" Drag-Knight. Following an accidental meeting with Lisesharte, the kingdom's new princess, Lux decides to enroll in the all-female academy that prepares royals to become Drag-Knights.
Lux must struggle with the approaches of the many female classmates at the academy while simultaneously attempting to keep his background a secret.
5. IN ANOTHER WORLD WITH MY SMARTPHONE
A 15-year-old kid named Touya Mochizuki is the subject of the anime In Another World With My Smartphone after he is unintentionally slain by God and resurrected into a fantastical setting.
He goes from country to country resolving political conflicts while having fun, making friends with a wide variety of individuals, mostly ladies, in this new world. Although there are ecchi themes in the anime, it also focuses on Touya's interactions with the characters he meets in his new life.
6. Death March kara Hajimaru Isekai Kyousoukyoku
The anime Death March to the Parallel World Rhapsody centers on Ichirou Suzuki, a developer who accidentally enters a world of fantasy role-playing games. He must use his gaming expertise to defeat his foes in this new realm so he may return home.
This anime has plenty of comedy, action, and adventure, along with some echi-components for good measure. Death March to the Parallel World Rhapsody should be high on your list of must-watch anime if you're searching for a good time.
7. Busou Shoujo Machiavellianism
Advertisement Continue To Read Below
Busou Shoujo Machiavellianism is an anime that follows Fudo Nomura, a young guy who was expelled from his previous high school following a major brawl. He subsequently transfers to the exclusive Aichi Symbiosis Academy, where female pupils have been viciously oppressing their male classmates out of inappropriate paranoia.
The "Supreme Five Swords," a five-member vigilante organization commanded by Rin Onigawara, holds Nomura at sword-point and forces him to accept their rules or leave the school. Nomura, on the other hand, confronts the Supreme Five Swords in order to demonstrate that real morality does not rely on brute power.
While I dislike this anime due to its narrow-minded premise, it may be enjoyable for other individuals.
8. How Not to Summon a Demon Lord
How Not to Summon a Demon Lord is a harem anime with a powerful male protagonist. Takuma Sakamoto is sent to the virtual world of his beloved MMORPG, Cross Reverie, when his own character, the Demon Lord Diablo, appears in the game. The two girls who summoned him, pantherian Rem and elf Shera, attempt to cast a spell to turn Takuma their servant, however the spell reflects owing to his magic ring with the skill "Magic Reflection."
Must Read: 6 Anime About Taboo Subject
9. Chivalry of a Failed Knight
Advertisement Continue To Read Below
Chivalry of a Failed Knight is an anime that follows the life of Ikki Kurogane, a failed student at the famous Hagun Academy. When he finds Stella Vermillion, an A-ranked Blazer who also happens to be a princess, naked, he challenges her to a high-stakes fight in which the loser becomes the slave of the winner.
The male protagonist in this ecchi harem anime is a badass who must use his talents to beat Stella and declare victory.
10. The Testament of Sister New Devil
The Testament of Sister New Devil is an anime with strong ecchi themes, as the main character Basara frequently finds himself in uncomfortable circumstances with his two step-sisters. What distinguishes this anime is its emphasis on action and adventure, as Basara must protect his sisters from other demons seeking their inheritance. This results in a unique and entertaining anime that will appeal to fans of both genres.
12. Trinity Seven
Trinity Seven is a harem anime with a strong male protagonist. The main character, Arata Kasuga, is an ordinary young boy whose life is turned around when his cousin Hijiri goes missing. To find out what happened to her, he enrolls at the Royal Biblia Academy, a secret school for magicians that deals with magical issues all over the world.
He encounters the Trinity Seven, a group of seven outstanding wizards at the peak of their fields. The Trinity Seven help him in his journey to become a powerful magician. From its description, it may sound like a normal anime, but there are quite a lot of ecchi elements.
13. Sekirei
Sekirei is a fantastic ecchi harem anime with a tough male protagonist. The anime contains many echhi features, such as stunning buxom girls and bishounen, as well as some really sensual fight sequences. Minato Sahashi is an excellent protagonist, and the women he encounters are all charismatic. If you're searching for a fun and erotic harem anime, Sekirei is a must-watch!
14. High School DxD
Advertisement Continue To Read Below
High School DxD is an ecchi-themed anime with a tuff male lead. Issei Hyodo, a lecherous student, is murdered by a fallen angel but revived as a demon by his classmate Rias Gremory. As a result of his death, Issei obtains the power to summon demons, which he utilizes to battle the fallen angels. The anime is packed with action, comedy, and fan service, making it a must-see for lovers of all three genres.
15. Blade Dance of Elementalars
Bladedance of Elementalers is an ecchi anime with a powerful male protagonist. Kamito Kazehaya trains for the Blade Dance, a fight event in which he will meet the strongest elementalist.
Claire is an uncommon elementalist. She intended to make a deal with a powerful spirit in order to boost her power as a "elementalist." To make matters worse, Claire insists that Kamito must instead become her contracted spirit!
The anime has several ecchi aspects, such as nearly naked Claire Rouge and other female characters. Despite this, the show is still entertaining and plenty of chuckles and entertainment value.
16. Hundred
Hundred is a harem anime featuring a powerful male protagonist. Hayato Kisaragi, a teenager with the greatest compatibility level with the weapon known as "Hundred," is the protagonist of the anime. He gets asked to train at the elite military academy Little Garden. At the academy, he draws the attention of several female classmates and becomes involved in a number of scandals.
17. Gakusen Toshi Asterisk
Advertisement Continue To Read Below
The Asterisk War is a harem anime with a formidable male protagonist. The anime follows Ayato Amagiri as he joins the renowned Seidoukan Academy and becomes entangled in a student body war for power. There are several ecchi moments in the anime, including scenes of Julis-Alexia von Riessfeld, the Witch of Resplendent Flames, half-dressed. If you're searching for an action-packed anime with loads of fan service, The Asterisk War is a must-see!
18. Strike the Blood
Strike the Blood is an anime about a high school student named Kojou Akatsuki who unexpectedly develops vampire skills. When it is found that he is the fourth primogenitor, an enormously strong vampire, he is thrown into the spotlight.
Yukina Himeragi, an apprentice sword-shaman, is dispatched by the Lion King Organization to observe and, if necessary, murder him. However, as Kojou comes to grips with his talents and they both strive to preserve their city from different chaotic forces, the two develop an odd partnership.
19. The Fruit of Grisaia
The story of Yuuji Kazami, a transfer student who has recently been enrolled to Mihama Academy, is told in the anime The Fruit of Grisaia. He rapidly realizes that this school is unlike any other he's ever attended; it only has the principal and five other students, all of whom are female.
As he gets to know them better, he discovers the reality behind their tiny group: they've all had painful experiences that they've kept hidden from the rest of the world.
While The Fruit of Grisaia might be a good watch for some, I find it difficult to appreciate because of the behavior of some of the characters.
20. Haganai: I don't have many friends
Advertisement Continue To Read Below
Haganai: I Don't Have Many Friends is a Japanese anime about a group of misfits who band together to try to find friends. The main character, Kodaka, is trying to make a good impression at his new school, but his blond hair and scary expression quickly brand him as a violent delinquent.
The Neighbor's Club is for those who don't have friends, and its members include eroge fan Sena Kashiwazaki and other oddball outcasts. They acquire social skills and how to blend in through their club activities, which will ideally assist them to make friends.
This anime is full with amusing oddballs, and it's a must-see for anybody who appreciates comedy or slice-of-life episodes.
21. The Familiar of Zero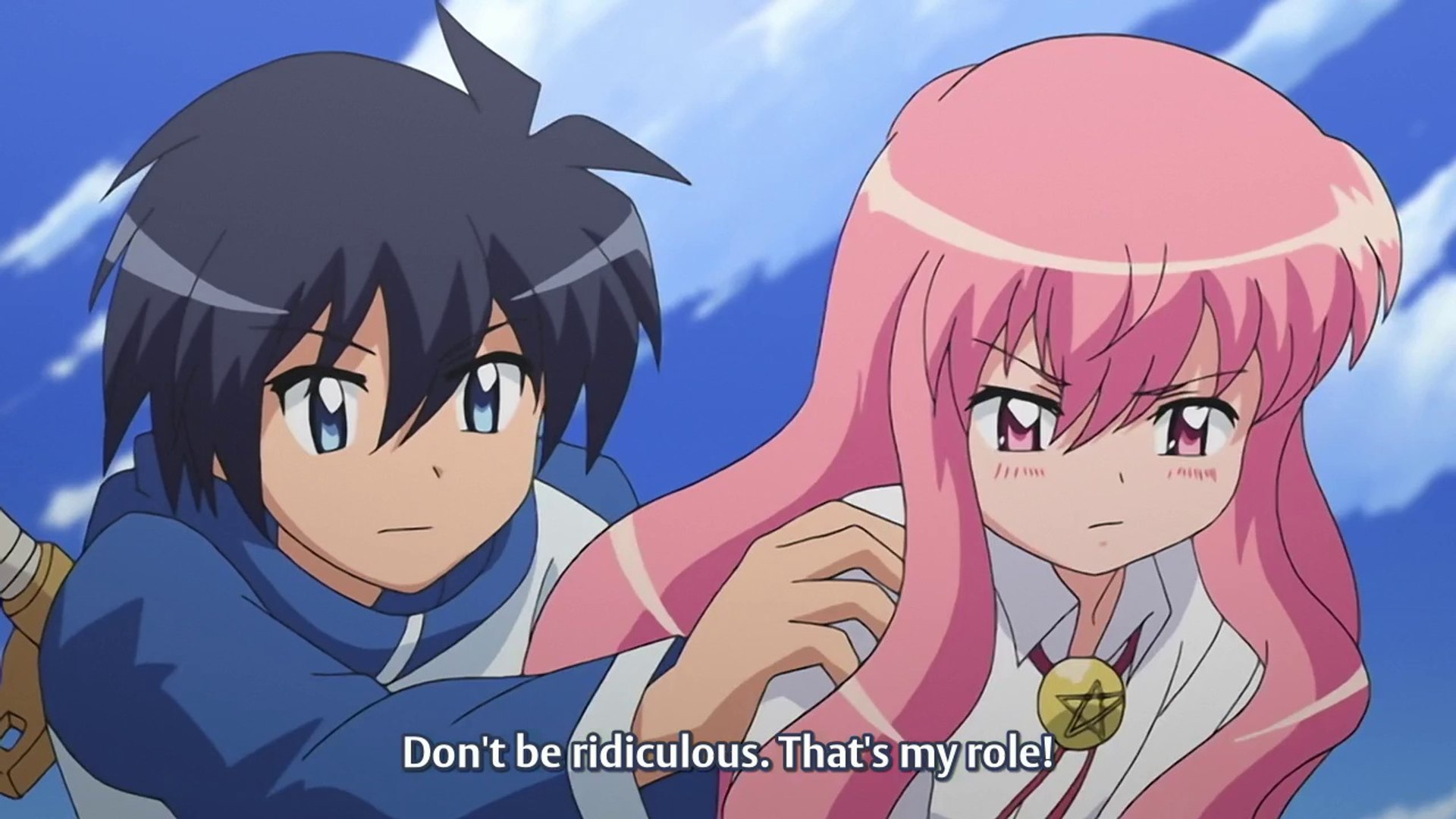 Louise Françoise Le Blanc de La Vallière is a self-absorbed wizard in a world of wands, cloaks, and nobility. When her summoning ritual causes a terrible blast, a boy named Saito Hiraga emerges. Saito, Louise's familiar, is now treated as a slave, forced to clean her clothes and eat on the ground. The story follows Saito as he adjusts to his new life and Louise demonstrates that she is more than her nickname implies.
Advertisement Continue To Read Below