We all want to watch anime with the strong and badass main character and we also love watching Ecchi Harem Anime With Badass Male Lead and you are also looking for anime like that then this list is for you.
In this article, we will list the 20 Best Ecchi Harem Anime With Badass Male Lead.
Read Also:
Ecchi Harem Anime
1. THE HIDDEN DUNGEON ONLY I CAN ENTER
Noir Starga is at the bottom of the social hierarchy. Because of this, his fellow nobles oppress him and treat him like garbage. However, he possesses a rare yet powerful ability to communicate with the Great Sage, an oracle who grants Noir the answer to absolutely anything.
After failing to secure a job as a librarian, Noir decides to join the Hero Academy. He knows he must become stronger to enter the institution. The Great Sage advises him to explore a hidden dungeon deep within the mountains. There, Noir meets Olivia Servant, a beautiful yet enchained maiden trapped within the labyrinth.
Olivia bestows upon Noir a set of ridiculously powerful skills that grants him virtually total control over reality. Naturally, there is a catch—every time Noir attempts to use his powers, his life points decrease, putting his life at risk. To replenish his energy, he must give in to worldly pleasures such as kissing his childhood friend!
With his newfound powers, Noir begins his journey as a student in the Hero Academy, meeting new acquaintances and helping them through the dire situations ahead.
2. Infinite Stratos
An exoskeleton weapon engineered by Japan, Infinite Stratos (IS) can be piloted only by women. Its power and combat prowess are so immense that an international treaty has been signed banning its use as a military asset.
When it is discovered that 15-year-old Ichika Orimura is the only male capable of steering an IS, he is forcibly enrolled in the Infinite Stratos Academy: an all-female boarding school, the students of which graduate to become IS pilots. At this training school, Ichika is reunited with two of his childhood friends, Houki Shinonono and Lingyin Huang, and befriends Cecilia Alcott, an IS representative from the United Kingdom.
Guided by the legendary pilot Chifuyu Orimura—their strict homeroom teacher and Ichika's older sister—Ichika and the girls will need to use everything at their disposal to defend themselves and their academy against the dangers that will arise during their thrilling school life.
3. ARIFURETA
The ordinary life of 17-year-old otaku Hajime Nagumo is disrupted when he and his classmates are summoned to a fantasy world and tasked with saving mankind. While his classmates are gifted with impressive abilities useful in combat, Hajime is belittled for only gaining an inferior transmutation skill that lacks any real offensive power.
During an expedition in the Great Orcus Labyrinth, Hajime is betrayed by one of his classmates, plummeting him to the bottom of an abyss. Though he survives the fall, Hajime is faced with menacing monsters and misfortunes that send him spiraling into a grim nightmare. Desperate to live and return home one day, he resolves to fight for his survival—only to meet an imprisoned vampire he names Yue, who is also seeking to escape the labyrinth.
Taking an interest in him, Yue and a few others along the way accompany Hajime on his journey to find a way back home, while steadily transforming from commonplace to the world's strongest.
4. Saijaku Muhai no Bahamut
Lux, a former prince of an empire named Arcadia that was overthrown via a rebellion five years earlier, accidentally trespasses in a female dormitory's bathing area, sees the kingdom's new princess Lisesharte naked, incurring her wrath.
Lisesharte then challenges Lux to a Drag-Ride duel. Drag-Rides are ancient armored mechanical weapons that have been excavated from ruins all around the world.
Lux used to be called the strongest Drag-Knight, but now he's known as the "undefeated weakest" Drag-Knight because he will not attack in battle. After his duel with Lisesharte, Lux ends up attending the female-only academy that trains royals to be Drag-Knights.
5. IN ANOTHER WORLD WITH MY SMARTPHONE
In a thoughtless blunder, God accidentally strikes down Touya Mochizuki with a stray bolt of lightning! As an apology, God offers him one wish and the chance to live again in a magical fantasy world. Touya happily accepts the offer and, for his one wish, asks only to keep his smartphone with him as he begins his journey into this mysterious world.
Starting over in this new world, Touya finds it is filled with magic—which he has an affinity for—and cute girls vying for his attention. These girls—the twins Linze and Elze Silhoueska, Yumina Urnea Belfast, Leen, and Yae Kokonoe—provide Touya with no end of romantic frustrations, but also companionship as he discovers the secrets of this new world.
6. Death March kara Hajimaru Isekai Kyousoukyoku
Ichirou Suzuki, a programmer nearing his thirties, is drowning in work. Worn out, he eventually has a chance to catch up on sleep, only to wake up and discover himself in a fantasy RPG world, which is mashed together from the games he was debugging in reality.
In this new place, he realizes that not only has his appearance changed to a younger version of himself, but his name has also changed to Satou, a nickname he used while running beta tests on games.
However, before Satou can fully grasp his situation, an army of lizardmen launches an assault on him. Forced to cast a powerful spell in retaliation, Satou wipes them out completely and his level is boosted to 310, effectively maximizing his stats.
Now, as a high-leveled adventurer armed with a plethora of skills and no way to return to reality, Satou sets out to explore this magical new world.
7. Busou Shoujo Machiavellianism
The Private Aichi Symbiosis Academy was originally a high school for high-class girls. When it became co-ed, the girls, out of fear, asked to be permitted to bring weapons to school. When that was enforced, a five-member vigilante corps-like organization called the "Supreme Five Swords" was also formed.
After many generations, the five swords eventually became a group that corrected problematic students, and the academy started proactively accepting such students to correct them.
Nomura Fudou was sent to this school after being part of a huge brawl. What will he do when the only options he has after enrolling are being expelled from that school or being corrected the way the rest of the male students there were…by being forced to dress and act like a girl!
8. How Not to Summon a Demon Lord
When it comes to the fantasy MMORPG Cross Reverie, none can match the power of the Demon King Diablo. Possessing the game's rarest artifacts and an unrivaled player level, he overpowers all foolish enough to confront him.
But despite his fearsome reputation, Diablo's true identity is Takuma Sakamoto, a shut-in gamer devoid of any social skills. Defeating hopeless challenges day by day, Takuma cares about nothing else but his virtual life—that is, until a summoning spell suddenly transports him to another world where he has Diablo's appearance!
In this new world resembling his favorite game, Takuma is greeted by the two girls who summoned him: Rem Galeu, a petite Pantherian adventurer, and Shera L. Greenwood, a busty Elf summoner. They perform an Enslavement Ritual in an attempt to subjugate him, but the spell backfires and causes them to become his slaves instead.
With the situation now becoming more awkward than ever, Takuma decides to accompany the girls in finding a way to unbind their contract while learning to adapt to his new existence as the menacing Demon King.
Must Read: 10 Best Fantasy MMORPG Games For PC
9. Chivalry of a Failed Knight
There exist few humans in this world with the ability to manipulate their souls to form powerful weapons. Dubbed "Blazers," these people study and train at the prestigious Hagun Academy to become Mage-Knights; among the students is so-called failure Ikki Kurogane, the sole F-rated Blazer.
However, when the worst student in the academy sees Stella Vermillion, an A-ranked Blazer who also happens to be a princess, naked, she challenges him to a duel with dire stakes—the loser becomes the slave of the winner. There's no possible way that Stella can lose, right?
Rakudai Kishi no Cavalry follows the story of Ikki as he tries to prove his strength to a world that believes him to be the weakest, all the while gaining new friends, wisdom, and experience.
10. The Testament of Sister New Devil
Running into your new stepsister in the bathroom is not the best way to make a good first impression, which Basara Toujou learns the hard way. When his father suddenly brings home two beautiful girls and introduces them as his new siblings, he has no choice but to accept into his family the Naruse sisters: busty redhead Mio and petite silver-haired Maria.
But when these seemingly normal girls reveal themselves as demons—Mio the former Demon Lord's only daughter and Maria she trusted succubus servant—Basara is forced to reveal himself as a former member of a clan of "Heroes," sworn enemies of the demons. However, having begun to care for his new sisters, Basara instead decides to protect them with his powers and forms a master-servant contract with Mio to keep watch over her.
With the Heroes observing his every move and the constant threat of hostile demons, Basara has to do the impossible to protect his new family members. Moreover, the protector himself is hiding the dark secret that still haunts him to this day.
12. Trinity Seven
One day, the bright red sun stopped shining, causing the "Breakdown Phenomenon"—the destruction of Arata Kasuga's town and the disappearance of the people inhabiting it. All, however, is not yet lost; by utilizing the magical grimoire given to him by his childhood friend and cousin Hijiri Kasuga, Arata's world gets artificially reconstructed.
To investigate the phenomenon, Lilith Asami appears before Arata, whose artificial world suddenly disintegrates. He is given two choices: hand over the book, or die. However, Arata chooses the third option—enrolling in the top-secret magic school Royal Biblia Academy, where six other magical users await him. Together with Lilith, these six form the Trinity Seven, the elite of the school who each bolster their power and skill.
With the ambition to save Hijiri and the help of his newfound friends, Arata stops at nothing to prevent the destruction of his beloved hometown and to bring his best friend back.
13. Sekirei
Struggling yet brilliant teenager Minato Sahashi has failed his college entrance exams for the second time, resulting in him being regarded as worthless by those around him. However, the course of his seemingly bleak future is altered dramatically when a beautiful, supernatural woman falls from the sky and into his life.
That woman, Musubi, is a unique being known as a "Sekirei," a humanoid extraterrestrial with extraordinary abilities. These aliens are known for kissing humans carrying the Ashikabi gene to awaken additional latent powers deep within.
Recognizing the potential within the seemingly insignificant youth, Musubi kisses the bewildered Minato, initiating a bond between the two of them. This drags him into the high-stakes world of the Sekirei, where he and his new partner must compete against others in a battle for survival called the "Sekirei Plan." However, unbeknownst to the contestants, there is far more at risk than what the competition initially entailed.
14. High School DxD
High school student Issei Hyoudou is your run-of-the-mill pervert who does nothing productive with his life, peeping on women and dreaming of having his harem one day. Things seem to be looking up for Issei when a beautiful girl asks him out on a date, although she turns out to be a fallen angel who brutally kills him! However, he gets a second chance at life when beautiful senior student Rias Gremory, who is a top-class devil, revives him as her servant, recruiting Issei into the ranks of the school's Occult Research club.
Slowly adjusting to his new life, Issei must train and fight to survive in the violent world of angels and devils. Each new adventure leads to many hilarious (and risqué) moments with his new comrades, all the while keeping his new life a secret from his friends and family in High School DxD!
15. Blade Dance of Elementalars
On his way to Areishia Spirit Academy, Kamito Kazehaya runs into a naked Claire Rouge, a student who had been bathing as part of a purification ceremony.
She had been preparing to form a contract with a powerful spirit to acquire more power as an "Elementalist." Her efforts are wasted, however, when Kamito ends up with the spirit even though only shrine maidens can become elementalists. Yet to be discouraged, Claire then announces that Kamito must become her contracted spirit instead!
After reaching the school grounds, Kamito escapes from Claire and meets Headmaster Greyworth Ciel Mais, who invites him to enroll at the academy. Although his life at Areishia will be far from easy as the only male student among the shrine princesses-in-training, he begrudgingly accepts in exchange for information about his former contracted spirit, Restia Ashdoll.
Adding on to that, he also must fulfill Greyworth's main request: to win in the Blade Dance, a battle festival occurring in two months, where he will face the strongest Elementalist rumored to be contracted with a darkness spirit.
16. Hundred
When an extraterrestrial organism is known as "Savage" attacks mankind, the only technology capable of combating the enemy is a weapon known as "Hundred." A survivor of a Savage attack, Hayato Kisaragi is a teenager boasting the highest compatibility level with the aforementioned technology and as a result, is invited to master his skills at Little Garden, a prestigious military academy aboard a battleship.
Throughout his intense training for the battle ahead, he immediately attracts the interest of multiple female peers and gets drawn into several incidents as he tries to fight against the creatures that now inhabit Earth and threaten its safety.
17. Gakusen Toshi Asterisk
In the previous century, an unprecedented disaster known as the Invertia drastically reformed the world. The powers of existing nations declined significantly, paving the way for a conglomerate called the Integrated Empire Foundation to assume control.
But more importantly, the Invertia led to the emergence of a new species of humans who are born with phenomenal physical capabilities—the Genestella. Its elite are hand-picked across the globe to attend the top six schools, and they duel amongst themselves in entertainment battles called Festas.
Ayato Amagiri is a scholarship transfer student at the prestigious Seidoukan Academy, which has recently been suffering from declining performances. Through a series of events, he accidentally sees the popular Witch of Resplendent Flames, Julis-Alexia von Riessfeld, half-dressed! Enraged, Julis challenges him to a duel for intruding on her privacy.
After said duel is voided by the student council president, Ayato reveals that he has no interest in Festas. Instead, he has enrolled in the academy to investigate the whereabouts of his missing elder sister. But when a more devious plot unravels, Ayato sets out to achieve victory, while being surrounded by some of the most talented Genestella on the planet.
18. Strike the Blood
Kojou Akatsuki's days as an ordinary high school student in the Demon District of Itogami Island come to an abrupt end after a fateful encounter leaves him with the remarkable abilities of a vampire.
It isn't long before he is thrust into the center of attention when it is discovered that he is the fourth primogenitor, an immensely powerful vampire whom most consider being merely a legend.
Fearing Kojou's destructive potential, the Lion King Organization sends in an apprentice sword-shaman, Yukina Himeragi, to monitor, and should he become a threat, kill the boy deemed the world's most powerful vampire. Forced together by circumstance, the two form an unlikely alliance as Kojou comes to terms with his abilities and they both struggle to protect the city from various emerging chaotic forces.
19. The Fruit of Grisaia
Yuuji Kazami is a transfer student who has just been admitted into Mihama Academy. He wants to live an ordinary high school life, but this dream of his may not come true any time soon as Mihama Academy is quite the opposite.
Consisting of only the principal and five other students, all of whom are girls, Yuuji becomes acquainted with each of them, discovering more about their personalities as socialization is inevitable. Slowly, he begins to learn about the truth behind the small group of students occupying the academy—they each have their share of traumatic experiences which are tucked away from the world.
Mihama Academy acts as a home for these girls, they are the "fruit" that fell from their trees and have begun to decay. It is up to Yuuji to become the catalyst to save them from themselves, but how can he save another when he cannot even save himself?
20. Haganai: I don't have many friends
When Kodaka Hasegawa finds out that he will be transferring to a new school, he is determined to make a positive impression, and maybe even some friends. However, Kodaka discovers he is out of luck when he immediately gets labeled as a violent delinquent due to his blond hair and intimidating expression.
Although a month has passed, Kodaka is still alone thanks to his notorious reputation. However, his life begins to change when he finds fellow loner Yozora Mikazuki talking to her imaginary friend in an empty classroom.
After sharing stories of their lonely high school life, Kodaka and Yozora decide to overcome the difficulties of making friends together by starting the Neighbor's Club.
Created for people who don't have friends, daily activities involve learning social skills and how to fit in, which will hopefully allow them to make friends. Joined by the eroge-loving Sena Kashiwazaki, and other eccentric outcasts, Kodaka may finally have managed to find people he can call friends, in this club filled with hilarious oddballs.
21. The Familiar of Zero: Rondo of Princesses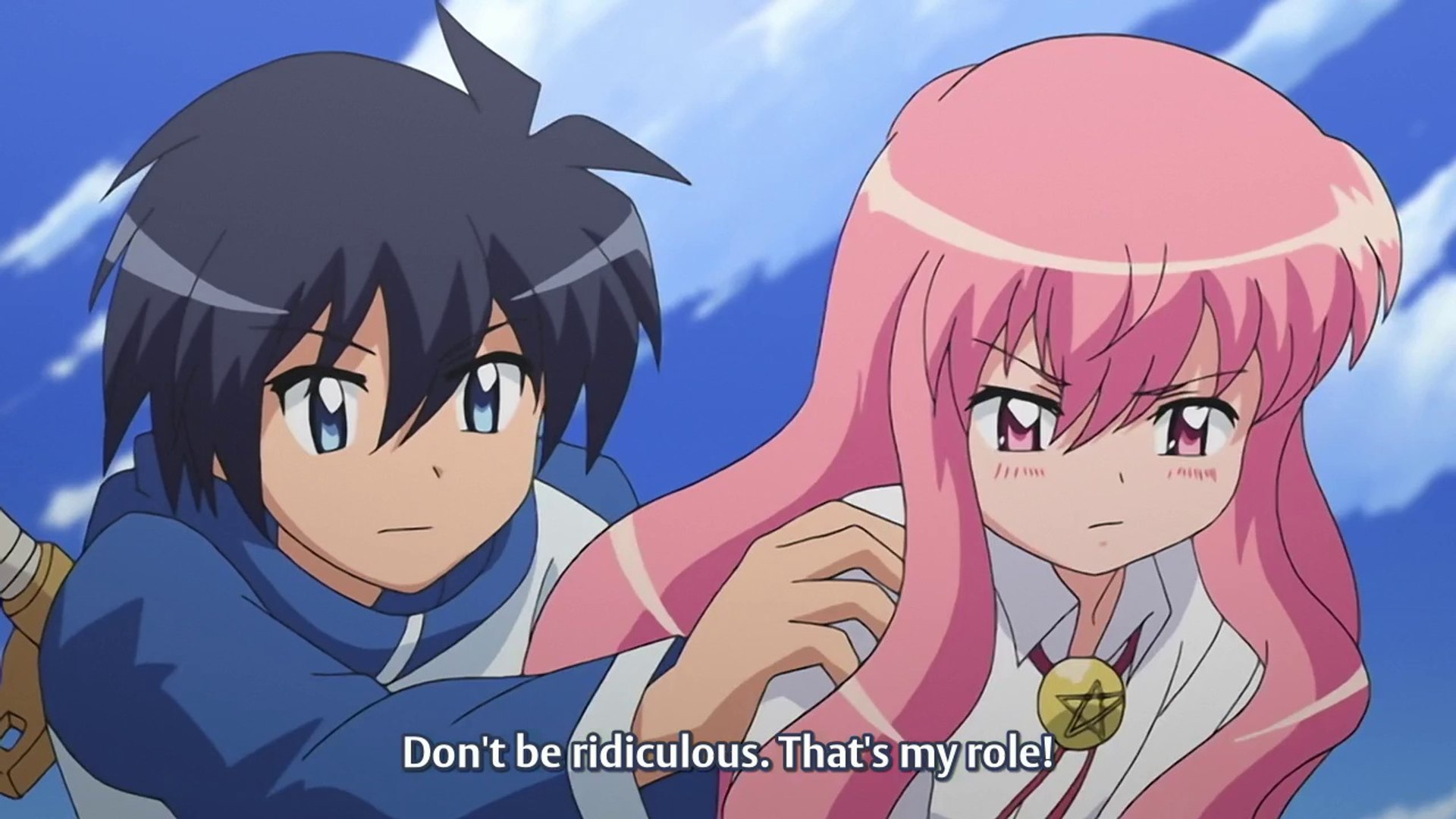 Following his brave sacrifice in the war against Albion, Saito Hiraga is knighted and treated as an aristocrat, something that proves difficult for Louise Françoise Le Blanc de La Vallière. With their relationship no longer defined as the mighty Void mage and clueless familiar, she wonders what exactly this means for them.
While venturing to a castle, Louise is ambushed by a powerful mage named Sheffield. Battling alone, the young mage nearly faces defeat until Saito makes his appearance. The mystical and unknown nature of Void magic seems to be at work in the battle, and Louise begins to believe in the possibility of another Void user. Moreover, she realizes that Saito's magical rune is fading, and so a new adventure begins as they search for the elf who revived Saito in the past.
The relationship between former master and servant faces a new challenge as they work to restore the runes and redefine the bond which holds them together.