Looking for the most intense ecchi anime? Look no further! This list includes some of the weirdest and wildest titles out there. From explicit scenes to borderline h*ntai, these series will get your blood pumping in all the right ways.
We've compiled a list of some of the most extreme ecchi anime of all time. With suggestions from our readers, these series range from gut-wrenchingly disturbing to hilariously over-the-top and everything in between.
Read Also:
Most Infamous Ecchi Anime
Freezing
Freezing is an ecchi anime set in a future where humanity is under attack by alien Novas. Young men and women are given superhuman powers to fight them and are trained in military academies. It follows Kazuya Aoi, who accidentally embraces a powerful Pandora, Satellizer el Bridget, mistaking her as his sister. They form a partnership while facing challenges and battle against the Novas and navigating their relationship.
INTERSPECIES REVIEWERS
This anime is set in a world where there are many different humanoid species and each has their own brothel with "succu-girls", who have succubus blood running through them. The series follows Stunk, an elf named Zel, and an angel named Crimvael, who visit various brothels and rate their experiences with the succu-girls.
The anime explores themes of sexuality, race, and discrimination. Despite all this, the anime is actually quite light-hearted and humorous. If you're looking for an anime that's both funny and thought-provoking, then Interspecies Reviewers is definitely worth checking out.
THE TESTAMENT OF SISTER NEW DEVIL
Basara Tojo is a student in high school at Hijirigasaka Academy until his father Jin unexpectedly "remarries" and asks him if he wants sisters. Basara sees his two new cute stepsisters, Mio and Maria Naruse.
Basara discovers immediately after his father's departure that the two sisters are members of a demon clan, and he is intended to be with the hero clan. Mio, a Demon princess, is forced to enter into a master and servant contract with Basara, but Maria gets it reversed, with Basara as the master.
SEVEN MORTAL SINS
Lucifer, one of God's archangels, is condemned for defying the Almighty's will and expelled from Heaven. She is forced to make a brief halt after crashing into a high school chapel, where a little girl named Maria Totsuka sees her arrival.
After Lucifer infuses the girl with some of her angel's blood, she continues her descent into Hell, where she encounters Leviathan, the aspiring minor Demon Lord of Envy.
HIGH SCHOOL OF THE DEAD
Highschool of the Dead is set in modern-day Japan and begins when the globe is afflicted by a fatal disease that transforms humans into zombie, euphemistically referred to as "Them" by the main protagonists.
The story revolves around a group of high school students and the school nurse as they deal with the global catastrophic catastrophe known as the "Outbreak." While attempting to escape the zombie apocalypse, the characters must also contend with the extra hazards of social collapse, in the form of violent fellow survivors, and the potential decay of their moral values.
PRISON SCHOOL
Hachimitsu Academy, one of Tokyo's most strict girls' schools, has chosen to let boys into its system. Kiyoshi Fujino is one of these new boys, but he and his four friends—Takehito "Gakuto" Morokuzu, Shingo Wakamoto, Jouji "Joe" Nezu, and Reiji "Andre" Andou—discover to their surprise that they are the only male students amid 1,000 ladies. The institution is made more worse by the severe laws that are still in force, which penalize even small offenses with a stay in the school's prison.
With the lecherous mentality of "all for one, one for all," the five lads all commit to voyeurism in the school's swimming area. The five guys are given an ultimatum after being "arrested" by the Underground Student Council: either remain a month in the school's Prison Block or be expelled.
TSUGUMOMO
Kazuya Kagami, an average guy, has his world flipped upside down when his late mother's obi changes into Kiriha, a girl dressed in a kimono. She is a Tsukumogami known as a "tsugumomo," which are items that have earned a soul through long years of harmony with their owners. Kazuya has no recall of meeting Kiriha when she greets him with "Long time no see."
Kiriha saves him from an attacking "amasogi," which are premature spirits created exclusively to satisfy the impure wishes of certain people. With the entrance of Kiriha, Kazuya enters a realm populated by gods and other Tsukumogami, gradually uncovering his terrible background.
REDO OF HEALER
Keyaru, who is exploited repeatedly by others due to being a healing magician, notices what lays beyond just his healing magic, and is convinced that a healing magician is the strongest class in the world. However, by the time he realizes his potential, he is already deprived of everything.
Thus, using his healing magic, enhanced by the magic-enhancing properties of the Philosopher Stone on the world itself, he goes back four years into the past, deciding to redo everything and get revenge.
MONSTER MUSUME
Kimihito Kurusu had a peaceful, average existence alone while his parents were away until monster girls flooded in! This parallel reality depicts cutting-edge Japan, the first country to promote non-human species inclusion into society.
Kimihito swiftly attracts ladies of all breeds after the incompetence of interspecies exchange coordinator Agent Smith leaves him as the homestay guardian of a Lamia named Miia, resulting in an ever-growing harem flush with sensuality and desire.
Why the Hell are You Here, Teacher!?
One of the most intense Ecchi Anime Series on this list is Why the Hell Are You Here, Teacher!? This anime follows high school student Ichiro Sato who regularly finds himself in some fairly scandalous circumstances with Kana Kojima – a young teacher who has quite the reputation for being a "evil demon". Other volumes have more male students matched with female teachers, guaranteed to leave blushing fans red-faced but entertained. If you're seeking for something bizarre and erotic, Why the Hell Are You Here, Teacher!? is for you!
SUPER HXEROS
SUPER HXEROS is one of the most intense Ecchi Anime series, and it certainly lives up to its name. The anime depicts the story of a world-ending disaster and follows a group of heroes who use the power of "Ecchi" and "Ero" to save their planet from monsters with a strong desire for libido.
SUPER HXEROS is packed with fan service, including plenty of perverted humor while exploring character relationship dynamics in traditional ecchi way. This blend, along with its high-octane action moments, allows spectators to enjoy both comedy and adventure in equal measure. SUPER HEXROS should be on the radar of anyone looking for something out of the ordinary but nonetheless carefully created in terms of storytelling.
EROMANGA SENSEI
Eromanga Sensei is an anime series that tells the story of high school student Masamune Izumi, who loves writing light novels. Masamune always gets his novels illustrated by an anonymous partner using the pen name "Eromanga", who is known for drawing questionably perverted images despite being extremely reliable.
In addition to juggling his interest and education, Masamune is responsible for his only family member, his younger stepsister Sagiri Izumi. Sagiri, a hikikomori by nature, has been locked in her room for over a year and continually bosses Masamune around, despite his attempts to convince her to leave. However, when Masamune realizes that his anonymous companion has been Sagiri all along, their sibling connection rapidly reaches new heights, especially when a beautiful, female, best-selling shjo manga creator enters the fight.
Demon King Daimao
This story of "love, magic, and battles" revolves around Akuto Sai, a boy who aims to become part of his country's highest order of magicians and contribute to society as one of its clergy.
His aptitude test predicts "Future Occupation: Demon King" on the day he gets enrolled to the Constant Magical Academy. Thus starts his very hard and complicated school life, in which he is despised by his studious female class head, desired by a girl with unknown powers, and guarded by a lovely female android.
How Not To Summon A Demon
Takuma Sakamoto is a hikikomori gamer who is inexplicably taken to the virtual world of his favorite MMORPG, Cross Reverie, when his character, the Demon Lord Diablo, appears in the game.
The two young girls who summoned him, the pantherian Rem and the elf Shera, attempt to use a spell to make Takuma their servant, but the spell rebounds due to his magic ring with the ability "Magic Reflection," and both end up with magic collars stuck around their necks, becoming his servants instead.
Aesthetica of a Rogue Hero
The story follows a world where several young men and women regularly find themselves spirited away to a world of sword and magic called Alayzard.
Those who survive and return are often gifted with magical skills. Babel, an international training organization, protects and instructs these young returnees in the use of their power. A wandering hero named Akatsuki has returned to home planet, accompanied by a lovely girl named Miu, the daughter of the Last Dark Lord, whom he defeated in combat.
Kill la Kill
Ryuuko Matoi has been traversing the land in quest of her father's murderer since his murder. She comes at the famous Honnouji Academy, a high school unlike any other, after following her lone lead—the missing half of his creation, the Scissor Blade.
Satsuki Kiryuuin, the intimidating and cold-hearted student council president, rules the institution alongside her strong underlings, the Elite Four. Satsuki bestows extraordinary clothing dubbed "Goku Uniforms" to individuals at the top of the school's mercilessly competitive hierarchy, which provide the person unique superhuman abilities.
Mother of the Goddess' Dormitory
Koushi Nagumo's life takes a turn for the worse when his father abandons him after their house burns down. After being left to fend for himself, Koushi falls on the street, but an eccentric woman called Mineru Wachi takes pity on him and brings him to the female dormitory "Megami-ryou."
Mineru, the temporary manager, invites Koushi to become Megami-official ryou's dormitory mother after knowing about his condition.
The dorm's inmates, however, await him, each with their own wacky shenanigans, such as the androphobic yet sympathetic Atena Saotome, the feminine tomboy Kiriya Senshou, and Mineru herself, whose carelessness has no boundaries when it comes to science. Despite this, Koushi does his best to carry out the responsibilities of his strange new life!
Peter Grill and the Philosopher's Time
Peter Grill, a Brave Swordsmen's Guild fighter, has won an international combat contest and is now the world's strongest man. This victory allows Peter to marry his loving daughter and fellow Guildmember, Luvelia, with the approval of Guildmaster Sanctus.
Women of other races, on the other hand, have heard of Peter's deeds and desire the "seed" of the greatest warrior to carry on their various bloodlines. Meanwhile, the Guildmaster's obsession with his own daughter pushes him to find a means to stop Luvelia's connection, while Peter attempts to conceal his new lovers from both of them.
My Dress-Up Darling
My Dress-Up Darling is a captivating ecchi anime series that follows Wakana Gojo, a high school student who secretly admires hina dolls and aspires to be a craftsman like his grandfather.
Despite being socially traumatized as a result of his hobby, he agrees to assistance his classmate Marin Kitagawa in creating cosplays. The series is filled with intense moments as the two collaborate to create some incredible costumes.
Is This a Zombie?
"Is This a Zombie?" is an anime that follows a high school student, Ayumu, who is brought back to life as a zombie by a necromancer, Eucliwood Hellscythe, after being murdered. He sets out to hunt down his killer, and in the process, comes across a young girl named Haruna who is fighting strange creatures known as "Megalo" . The anime contains some "ecchi" elements such as fanservice and perverted humor but it is not the main focus of the series.
High School DxD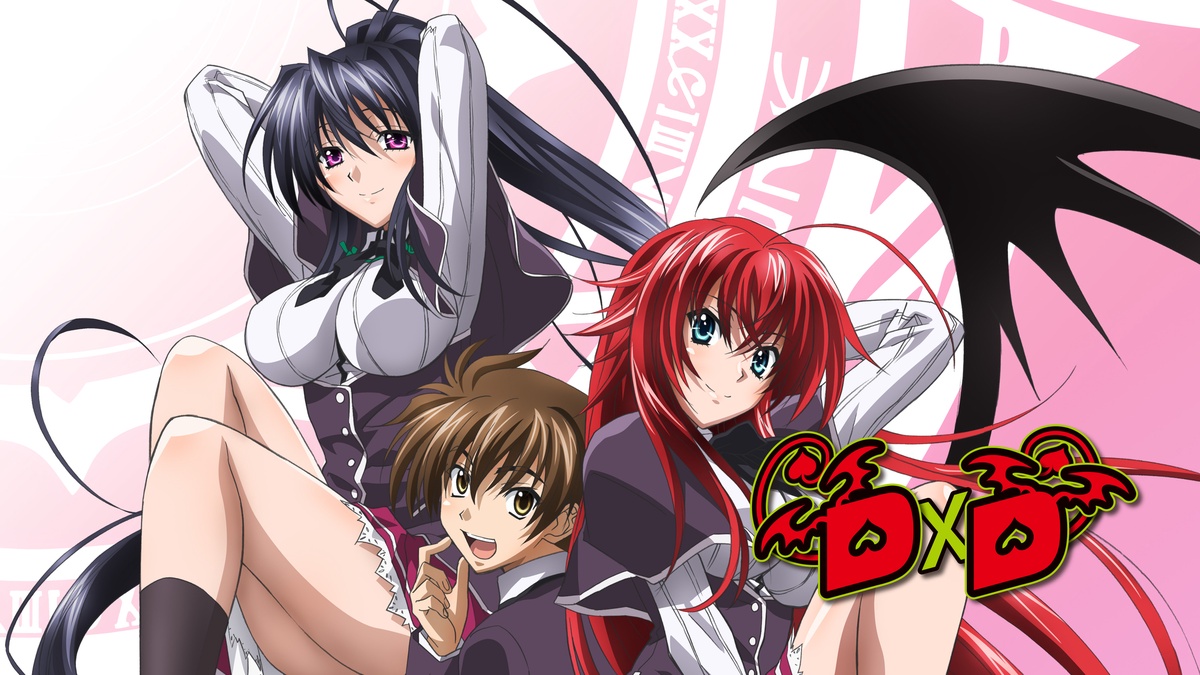 High School DxD is an ecchi anime that centers around Issei, a high school student who has a typical pervert personality and wants to have a harem one day. He's brought into the world of angels and devils after being killed by a girl, but is brought back to life by Rias Gremory as her servant. The anime heavily features ecchi elements, fanservice and comedic perversion while also showing Issei's journey of surviving in this dangerous new world while trying to keep it a secret from his friends and family.