Hold on to your hats, because we've got a list of some of the most extreme ecchi anime series out there. We've scoured the depths of the internet and even got some suggestions from our readers to bring you a compilation of anime that will make you question your sanity.
From the gut-wrenchingly disturbing to the hilariously over-the-top, and everything in between, these anime series are not for the faint of heart. They push the boundaries of what is considered acceptable in terms of se*ual content, and some may even make you blush or feel uncomfortable.
But for those who are looking for an experience that is truly unique, these anime series offer something different. Whether you're a fan of horror, comedy, or just love a good dose of fan service, there's something on this list that will cater to your tastes.
So get ready to explore the wild and wacky world of extreme ecchi anime, and brace yourself for a ride that you won't soon forget.
Read Also:
Most Risqué Ecchi Anime
21. TSUGUMOMO
Kazuya Kagami, an average guy, has his world flipped upside down when his late mother's obi changes into Kiriha, a girl dressed in a kimono. She is a Tsukumogami known as a "tsugumomo," which are items that have earned a soul through long years of harmony with their owners. Kazuya has no recall of meeting Kiriha when she greets him with "Long time no see."
Kiriha saves him from an attacking "amasogi," which are premature spirits created exclusively to satisfy the impure wishes of certain people. With the entrance of Kiriha, Kazuya enters a realm populated by gods and other Tsukumogami, gradually uncovering his terrible background.
20. MONSTER MUSUME
Kimihito Kurusu had a peaceful, average existence alone while his parents were away until monster girls flooded in! This parallel reality depicts cutting-edge Japan, the first country to promote non-human species inclusion into society.
Kimihito swiftly attracts ladies of all breeds after the incompetence of interspecies exchange coordinator Agent Smith leaves him as the homestay guardian of a Lamia named Miia, resulting in an ever-growing harem flush with sensuality and desire.
19. SUPER HXEROS
SUPER HXEROS is one of the most intense Ecchi Anime series, and it certainly lives up to its name. The anime depicts the story of a world-ending disaster and follows a group of heroes who use the power of "Ecchi" and "Ero" to save their planet from monsters with a strong desire for libido.
SUPER HXEROS is packed with fan service, including plenty of perverted humor while exploring character relationship dynamics in traditional ecchi way. This blend, along with its high-octane action moments, allows spectators to enjoy both comedy and adventure in equal measure. SUPER HEXROS should be on the radar of anyone looking for something out of the ordinary but nonetheless carefully created in terms of storytelling.
18. EROMANGA SENSEI
Eromanga Sensei is an anime series that tells the story of high school student Masamune Izumi, who loves writing light novels. Masamune always gets his novels illustrated by an anonymous partner using the pen name "Eromanga", who is known for drawing questionably perverted images despite being extremely reliable.
In addition to juggling his interest and education, Masamune is responsible for his only family member, his younger stepsister Sagiri Izumi. Sagiri, a hikikomori by nature, has been locked in her room for over a year and continually bosses Masamune around, despite his attempts to convince her to leave. However, when Masamune realizes that his anonymous companion has been Sagiri all along, their sibling connection rapidly reaches new heights, especially when a beautiful, female, best-selling shjo manga creator enters the fight.
17. Demon King Daimao
This story of "love, magic, and battles" revolves around Akuto Sai, a boy who aims to become part of his country's highest order of magicians and contribute to society as one of its clergy.
His aptitude test predicts "Future Occupation: Demon King" on the day he gets enrolled to the Constant Magical Academy. Thus starts his very hard and complicated school life, in which he is despised by his studious female class head, desired by a girl with unknown powers, and guarded by a lovely female android.
16. How Not To Summon A Demon
Takuma Sakamoto is a hikikomori gamer who is inexplicably taken to the virtual world of his favorite MMORPG, Cross Reverie, when his character, the Demon Lord Diablo, appears in the game.
The two young girls who summoned him, the pantherian Rem and the elf Shera, attempt to use a spell to make Takuma their servant, but the spell rebounds due to his magic ring with the ability "Magic Reflection," and both end up with magic collars stuck around their necks, becoming his servants instead.
15. Aesthetica of a Rogue Hero
The story follows a world where several young men and women regularly find themselves spirited away to a world of sword and magic called Alayzard.
Those who survive and return are often gifted with magical skills. Babel, an international training organization, protects and instructs these young returnees in the use of their power. A wandering hero named Akatsuki has returned to home planet, accompanied by a lovely girl named Miu, the daughter of the Last Dark Lord, whom he defeated in combat.
14. Kill la Kill
Ryuuko Matoi has been traversing the land in quest of her father's murderer since his murder. She comes at the famous Honnouji Academy, a high school unlike any other, after following her lone lead—the missing half of his creation, the Scissor Blade.
Satsuki Kiryuuin, the intimidating and cold-hearted student council president, rules the institution alongside her strong underlings, the Elite Four. Satsuki bestows extraordinary clothing dubbed "Goku Uniforms" to individuals at the top of the school's mercilessly competitive hierarchy, which provide the person unique superhuman abilities.
13. Mother of the Goddess' Dormitory
Koushi Nagumo's life takes a turn for the worse when his father abandons him after their house burns down. After being left to fend for himself, Koushi falls on the street, but an eccentric woman called Mineru Wachi takes pity on him and brings him to the female dormitory "Megami-ryou."
Mineru, the temporary manager, invites Koushi to become Megami-official ryou's dormitory mother after knowing about his condition.
The dorm's inmates, however, await him, each with their own wacky shenanigans, such as the androphobic yet sympathetic Atena Saotome, the feminine tomboy Kiriya Senshou, and Mineru herself, whose carelessness has no boundaries when it comes to science. Despite this, Koushi does his best to carry out the responsibilities of his strange new life!
12. Freezing
Risqué Level: ★★★★☆
Ecchi Factor: ★★★★☆
Freezing" is an action-packed sci-fi ecchi anime that is not for the faint of heart. The anime is set in a future where humanity is under threat from an alien race called the Novas. To fight off these inhuman beings, young women known as "Pandoras" and young men known as "Limiters" are implanted with stigmata to give them superhuman powers and are trained in military academies. The show's risqué and ecchi nature is evident from the outset, as it features a battle royale where the Pandoras fight each other in skimpy outfits, which leaves little to the imagination.
The protagonist Kazuya Aoi mistakes Satellizer el Bridget, a powerful Pandora known as the "Untouchable Queen," as his deceased sister and embraces her during the match, causing her to lose. However, she finds that his touch doesn't drive her away and takes him as her Limiter. The anime's story is full of intrigue and action, with plenty of fan service thrown in for good measure.
11. PRISON SCHOOL
Hachimitsu Academy, one of Tokyo's most strict girls' schools, has chosen to let boys into its system. Kiyoshi Fujino is one of these new boys, but he and his four friends—Takehito "Gakuto" Morokuzu, Shingo Wakamoto, Jouji "Joe" Nezu, and Reiji "Andre" Andou—discover to their surprise that they are the only male students amid 1,000 ladies. The institution is made more worse by the severe laws that are still in force, which penalize even small offenses with a stay in the school's prison.
With the lecherous mentality of "all for one, one for all," the five lads all commit to voyeurism in the school's swimming area. The five guys are given an ultimatum after being "arrested" by the Underground Student Council: either remain a month in the school's Prison Block or be expelled.
10. Peter Grill and the Philosopher's Time
Peter Grill, a Brave Swordsmen's Guild fighter, has won an international combat contest and is now the world's strongest man. This victory allows Peter to marry his loving daughter and fellow Guildmember, Luvelia, with the approval of Guildmaster Sanctus.
Women of other races, on the other hand, have heard of Peter's deeds and desire the "seed" of the greatest warrior to carry on their various bloodlines. Meanwhile, the Guildmaster's obsession with his own daughter pushes him to find a means to stop Luvelia's connection, while Peter attempts to conceal his new lovers from both of them.
9. My Dress-Up Darling
In the captivating world of "My Dress-Up Darling," high school student Wakana Gojou leads a double life. By day, he appears to be an ordinary teenager, but behind closed doors, he indulges in a secret passion—crafting exquisite hina dolls. Inspired by his grandfather's mastery in the art, Gojou dreams of reaching the same level of expertise. However, he hides this unique hobby from his peers, fearing ridicule and rejection.
Everything changes when he encounters Marin Kitagawa, an incredibly beautiful and confident girl whose presence shines brightly. Despite their stark differences, a remarkable bond forms when Kitagawa stumbles upon Gojou's sewing skills. She discloses her own interest in cosplay, confessing her lack of talent in the sewing department. Determined to elevate her cosplay game, she seeks Gojou's assistance.
As Gojou and Kitagawa embark on their joint cosplay projects, their lives intertwine in unexpected ways. With each outfit they create, their friendship blossoms, gradually bridging the gap between their seemingly disparate worlds.
But what makes My Dress-Up Darling stand out is the fact that it has some truly risqué ecchi parts. At times, viewers can see the main characters wearing outfits that are quite revealing and suggestive in nature. The anime showcases daring scenes where the main characters don provocative and alluring costumes, emphasizing their exploration of the ecchi side. Through its visually captivating moments and charming character interactions, the series navigates the fine line between innocence and sensuality.
Delve into the enticing realm of "My Dress-Up Darling" as it invites you to witness the growth of Wakana Gojou and Marin Kitagawa, not only as passionate cosplayers but also as individuals who learn to embrace their true selves, even in the face of societal expectations.
8. INTERSPECIES REVIEWERS
Risqué Level: ★★★★★
Ecchi Factor: ★★★★★
Prepare yourself for a wild and unabashed exploration of the risqué and ecchi realms with "Interspecies Reviewers." In this anime, a world filled with diverse and alluring creatures becomes the backdrop for a group of adventurous and perverted warriors who embark on a mission to review the various brothels available.
From perky fairies to oozing slimes, every succu-girl species is included in their comprehensive research. With hands-on experiences and unfiltered assessments, the Yoruno Gloss reviewers leave no stone unturned. The anime delves deep into the ecchi element, showcasing explicit scenes and pushing the boundaries of what is acceptable for mainstream anime.
With its explicit content and unabashed approach to exploring the world of succu-girls, "Interspecies Reviewers" ventures into the territory of borderline H anime. It offers a tantalizing and provocative viewing experience for those seeking an anime that pushes the limits of risqué humor and unabashed fan service. Brace yourself for a journey that celebrates the wildest and weirdest aspects of the ecchi genre.
7. HIGH SCHOOL OF THE DEAD
Risqué Level: ★★★★☆
Ecchi Factor: ★★★★★
Prepare for an apocalyptic adventure like no other in "Highschool of the Dead." Set in modern-day Japan, the anime unfolds in the wake of a devastating global pandemic that transforms humans into ravenous zombies, ominously referred to as "Them" by our protagonists.
At first glance, the story follows a group of high school students and their school nurse as they navigate the chaos of the zombie-infested world. However, it quickly becomes apparent that this is not your typical action-horror anime. "Highschool of the Dead" seamlessly combines explosive action sequences with a heavy dose of ecchi elements that will leave you in awe.
As the characters strive to survive the apocalypse, they find themselves facing not only the relentless undead but also the dangers of a crumbling society. Fellow survivors prove to be just as hazardous, and the erosion of moral values adds an additional layer of complexity to their struggles.
This anime pushes the boundaries of the ecchi genre, featuring mind-blowing action scenes intertwined with provocative and titillating moments. From bullet-induced skirt tearing to various other jaw-dropping action sequences, "Highschool of the Dead" delivers an exhilarating blend of action and ecchi content that will leave you breathless.
6. Is This a Zombie?
"Is This a Zombie?" is an anime that follows a high school student, Ayumu, who is brought back to life as a zombie by a necromancer, Eucliwood Hellscythe, after being murdered. He sets out to hunt down his killer, and in the process, comes across a young girl named Haruna who is fighting strange creatures known as "Megalo" . The anime contains some "ecchi" elements such as fanservice and perverted humor but it is not the main focus of the series.
5. Why the Hell are You Here, Teacher!?
Risqué Level: ★★★☆☆
Ecchi Factor: ★★★★☆
"Why the Hell are You Here, Teacher!?" takes an unconventional approach to the teacher-student relationship, diving headfirst into risqué and ecchi territory. The series follows Ichirou Satou, an ordinary high school student whose life takes an unexpected turn when he finds himself in rather compromising situations with his teacher, Kana "The Demon" Kojima. Known for her tough reputation, Kojima's encounters with Satou become increasingly intimate and lead to a series of hilarious and steamy escapades.
In one particular incident, Satou and Kojima cross paths in the school restroom, resulting in a chance encounter that sends Satou's imagination spiraling. As their encounters become more frequent, the anime explores the humorous and tantalizing situations that arise from their peculiar relationship. With a blend of comedy, fan service, and suggestive moments, "Why the Hell are You Here, Teacher!?" pushes the boundaries of risqué humor and ecchi content, ensuring an entertaining and cheeky viewing experience for fans of the genre.
4. SEVEN MORTAL SINS
Risqué Level: ★★★★☆
Ecchi Factor: ★★★★★
In "Seven Mortal Sins," get ready for a devilishly seductive journey through Heaven, Hell, and everything in between. This provocative anime series revolves around Lucifer, an Archangel banished from Heaven for her rebellion against the divine will. As she plummets from the skies, she crashes through a high school church and finds herself caught between realms.
Lucifer's arrival doesn't go unnoticed, especially by Maria Totsuka, a soft-spoken student who becomes an unwitting witness to her descent into Hell. It's not long before Lucifer encounters Leviathan, an aspiring Demon Lord and an ardent fan of hers. Together, they hatch a plan to overthrow the Seven Sins, the ruling authorities of Hell led by Belial.
However, their journey is not without its challenges. The Seven Sins prove to be formidable opponents, forcing Lucifer to undergo a transformation that turns her into a Demon Lord, complete with a Garb of Punishment. Fuelled by a thirst for revenge, Lucifer, accompanied by Leviathan, returns to Earth, where she coerces Maria into becoming her immortal slave.
As the story unfolds, expect a blend of enticing visuals, suggestive themes, and captivating battles that epitomize the risqué and ecchi elements of the series. "Seven Mortal Sins" weaves together supernatural intrigue, tantalizing power dynamics, and a dash of fan service to create a tantalizing tale of redemption, lust, and divine retribution.
3. THE TESTAMENT OF SISTER NEW DEVIL
Risqué Level: ★★★★☆
Ecchi Factor: ★★★★☆
Basara Tojo is a student in high school at Hijirigasaka Academy until his father Jin unexpectedly "remarries" and asks him if he wants sisters. Basara sees his two new cute stepsisters, Mio and Maria Naruse.
Basara discovers immediately after his father's departure that the two sisters are members of a demon clan, and he is intended to be with the hero clan. Mio, a Demon princess, is forced to enter into a master and servant contract with Basara, but Maria gets it reversed, with Basara as the master.
2. REDO OF HEALER
In the dark and twisted world of Redo of Healer, Keyaru, a once-promising Hero with the unique ability to heal any injury, embarks on a journey of revenge that pushes the boundaries of risqué ecchi anime. What initially appeared as a path paved with glory and greatness quickly turned into a harrowing nightmare for Keyaru. Instead of a bright future, he endured excruciating torture and relentless abuse, plunging him into the depths of despair.
Keyaru's extraordinary healing powers become his salvation and the catalyst for his transformation. With the ability to absorb the memories and abilities of those he heals, he clandestinely grows stronger, becoming a force to be reckoned with. However, the cost of his newfound strength is immense, for he has already lost everything dear to him.
Determined to reshape his shattered life, Keyaru takes a drastic measure that alters the very fabric of reality. By unleashing a potent spell, he rewinds time to a point before his torment, armed with the anguish and pain of his past. Driven by an unwavering resolve, he embarks on a quest for retribution against those who have inflicted unspeakable wrongs upon him.
Redo of Healer delves into the darkest corners of human nature, exploring themes of abuse, manipulation, and psychological trauma. This anime series is an unapologetic portrayal of Keyaru's path to vengeance, as he navigates treacherous waters filled with intense ecchi scenes and controversial subject matter.
Please note that Redo of Healer contains explicit content and deals with sensitive topics that may not be suitable for all viewers. Viewer discretion is strongly advised.
1. High School DxD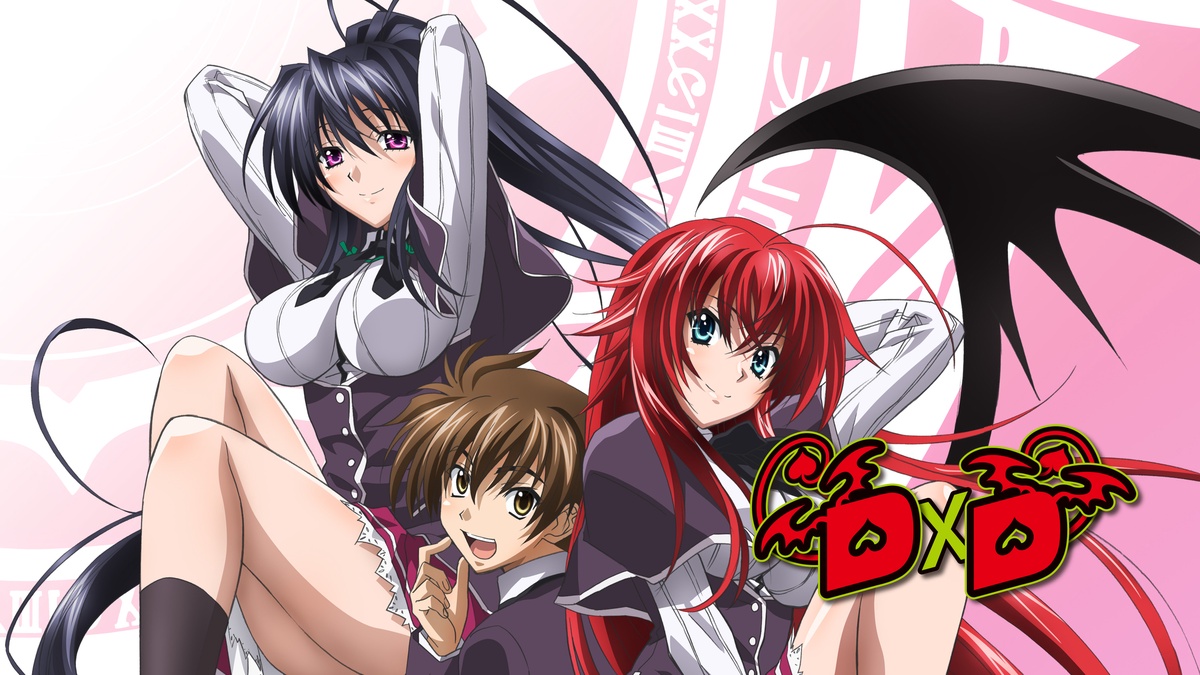 High School DxD is an ecchi anime that centers around Issei, a high school student who has a typical pervert personality and wants to have a harem one day. He's brought into the world of angels and devils after being killed by a girl, but is brought back to life by Rias Gremory as her servant. The anime heavily features ecchi elements, fanservice and comedic perversion while also showing Issei's journey of surviving in this dangerous new world while trying to keep it a secret from his friends and family.